The year 2020 forced brands to re-examine their identity and direction. They had to create brand marketing strategies that better served their customer's changing needs. But it wasn't like brands had an option. At least not if they wanted to stay in business. As Charles Darwin once said: "It is not the strongest of the species that survives, nor the most intelligent, but the one most responsive to change." That quote could easily apply to business as we know it today—and the evolution of brand management.
The Evolution of Brand Management: 2020 Changed How We Live
As we move into a new year, it's clear that many modern business practices have replaced old ones. Established brands have learned to adapt to the changing times while new brands have stepped into the spotlight by offering consumers what they want when they want it. Before COVID-19, there were already signs of profound change brewing among modern-day brands. It's just that 2020 brought many of these new patterns to the forefront.
Today, Netflix, Spotify, and Tesla are just a few of the many businesses transforming the way we live our lives. Brands like Uber, Lyft, DoorDash, PostMates, TaskRabbit, and others have created an entirely new dynamic in how we get from place to place, order food and supplies, and get things done.
Brands in 2021 face a variety of unique challenges. As a brand marketer, you have to help your business:
Maintain or increase its market share.

Adapt to changing consumer behaviors.

Monitor your distributed marketing team based on local laws and restrictions.
To top it off, you're working with shorter timelines because it's virtually impossible to plan past a certain date on the calendar. Marketers have to recognize what matters most before strategizing a short-term plan. The need for your brand to stand out and rise above your competitors is more critical than ever. In the aftermath of 2020's effects on brand marketing strategies, let's look at some important marketing trends that will help you succeed this year.
Do Business with a Purpose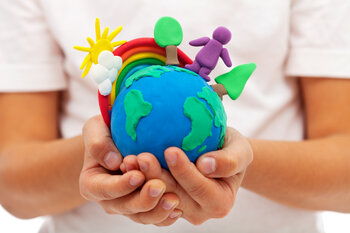 Every brand should ask themselves why they're in business. You should have a mission statement that clearly outlines why your brand exists in the first place. The 2020 Edelman Trust Barometer revealed that many people feel brands can solve global issues better than nonprofits and governments. They support brands that fall in line with their own beliefs. This evolution of brand management shows that consumers will continue to support brands that are transparent and purposeful.
Geico's Insurance Marketing Strategy
Let's say you have an insurance brand. Part of your insurance marketing strategy would be to define your brand identity. As an example, Geico's mission statement is to:
"…provide affordable and dependable direct auto insurance to drivers across the United States, while also representing our customers in their time of need following an accident."
That's a bold statement. Geico's promising affordability with their rates plus coverage and service that's dependable. If one of their customers is in an accident, Geico will take care of them. That's about as much as you can ask from an insurance brand. Affordable rates and dependability.
Brand Marketing Strategies: Ask Yourself Some Questions
Think about your brand's values. You probably have them drafted into a mission statement, too. But you have to dig a bit deeper. Ask yourself some questions about 2021 and answer honestly.
Can the average person identify your brand standards when they see your marketing messages?
Are these values on display in your daily activities? In other words, do you walk the walk or merely talk the talk?
Is your brand's website WCAG compliant? Have you committed to content that's available for everyone to access?
Additionally, are you boosting your e-commerce activities with AI, voice search, and a variety of payment options?
Always remember that you control your brand's image. Your brand's marketing messages and activities should always speak as the voice of your company. Be clear about who your brand is, what it stands for, and why people should do business with you. If you're an insurance brand, why should they trust you with their insurance needs? If you're a financial services brand, why should they trust you with their money? When you can answer these questions, you've cleared a hurdle. Your audience will "get you." They'll have a much better understanding of who you are as a company and you'll have greater success marketing to them. Once they understand your standards and objectives, they're much more likely to trust you. It's that trust that complements your own evolution of brand management while creating lifelong customers.
Simon Mouyal is the CMO of Athenahealth, a company that provides network-enabled services for healthcare and point-of-care mobile apps in the U.S. He said:
"Every marketer, especially in the tech industry, must focus on humanizing their value proposition. We need to shift away from talking to people's heads and instead start to reach people's hearts."
Develop an Activist Mindset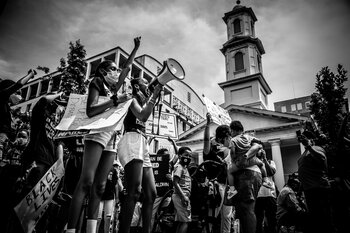 2020 was shaped by more than just a global pandemic. It also yielded a civil rights movement, developed from troubling events that happened throughout the year. Daily protests became the norm in city streets across the U.S. and all types of brands joined in the Black Lives Matter movement with marketing messages that supported and promoted its cause. Ironically, however, it also brought to light some brands that weren't practicing what they preach. These companies had to examine both their public messages and internal practices. Some brands were caught off-guard when consumers uncovered poor hiring records or racially troubled histories.
What's the moral of this story? Marketing efforts need to be more authentic and representative. This will be an ongoing goal for marketers throughout 2021 and beyond. According to Lindsey Roeschke, a director analyst at Gartner, a global research and advisory firm:
"This is actually the time for brands to be putting all the building blocks in place to be able to agilely respond to those sorts of things. The expectation is going to be there and to be taking a stand and playing a part in making the world a better place."
Making the world a better place carries new meaning amidst the pandemic's aftermath (Eg. economic inequity, food insecurity). Brand marketing strategies need to include new ways to take a stand where others fall short.
Develop a Personal Connection with Consumers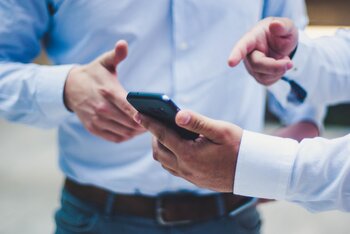 At the center of the evolution of brand management is personalization. Establishing a personal connection with consumers has become an essential part of any modern-day marketing strategy. People don't just like personalized marketing messages, they expect them. That's why message personalization will be one of the top tactics used by marketers in 2021. Whether you're sending an email campaign, a direct mailing, or using data to provide the right content to the right customer at the right time, almost all marketers surveyed agree on one thing. Personalization advances customer relationships.
Almost 75% of respondents in a national poll by Akamai expressed annoyance at content that doesn't recognize them and, at the same time, cater to their interests. These expectations create an environment where marketers have no choice but to use their data to target all their marketing messages. At any stage of the buyer's journey, it's important to speak to consumers' preferences, interests, and behaviors. One way to accomplish this is with marketing automation.
Marketing Automation Empowers Your Brand
Marketing automation is quickly becoming the best way to "do" marketing. Building a campaign around user interaction makes marketing more relevant and engaging than ever before. Almost 70% of marketers are currently using some form of automation for their campaigns. After all, it's not a new concept. But in 2021, the stage is set for marketing automation to grow even further so you can:
Convert better leads.
Generate more personalized content.
More accurately track your results.
When consumers are using a variety of devices at various touchpoints, a sophisticated software solution is the best way to accurately predict results and calculate ROI.
BlueSky ETO provides customized brand marketing solutions that empower your brand to create and manage repeatable, consistent campaigns. Templates, creative assets, business rules, and detailed reporting all work together so you can deliver robust, engaging campaigns. From print ads and point-of-sale displays to email marketing, SMS, and social media posts, you can streamline and deliver campaigns using marketing automation. Plus, robust reporting features make it easy to track your results and improve future strategies.
For a free brand consultation, contact a BlueSky ETO representative. We'll be happy to discuss your brand's business goals and determine how you can develop a personalized connection with marketing automation software.
Brand Management Evolved: Refine Then Redefine Your Brand
Let's get back to that notion of adaptability because it's what separates successful businesses from those that fall short. 2020 was a perfect example of how brand marketers had to adapt to unfamiliar, changing conditions. They had to respond to a "new normal" by changing their brand marketing strategies or expanding their product and service offerings. Many had to refine and redefine their marketing strategies.
Take the hospitality industry as an example. While some businesses chose (or were forced) to shut down, others adapted to the difficult conditions when they were legally able to do so. Many fast-food brands closed their dining rooms but amped up their marketing messages to promote the safety of "touchless" delivery options. Chick-fil-A is one example. The majority of its restaurants closed their dining rooms but still provided service to customers via multiple drive-thru lanes, and curbside pick-up or delivery. The brand issued a statement saying, in part:
"We want to remind our customers that our restaurants are committed to safety and high operating standards. We are also working to ensure customers have not only a safe experience but a convenient and efficient one as well."
Burger King took it a step further by opening new restaurants with a completely touchless experience. They issued QR code marketing collateral via their app so customers could park and quickly have food delivered to their cars. They also installed conveyor belts to safely deliver orders to the drive-thru and walk-up customers.
It wasn't just a global pandemic that created the need for change, however. An industry's focus can shift at any time. Here's an example.
The Evolution of Brand Management: The Netflix Adaptation
Netflix provides a great example of industry adaptation. The brand began in 2007 as a mail-order video rental service. People could skip the trip to their local video store (like Blockbuster) and have movies delivered directly to their mailbox. But when video streaming became the way of the future, Netflix had to adapt or fold. They chose the prior and as a result, they not only created their own streaming platform but also offered high-quality original content. Today, Netflix dominates the video streaming market with more than 183-million subscribers worldwide.
Remain aware of change and reposition your brand in a meaningful way when it's called for. Instill a culture shift, if necessary, and look for even greater goals. This will show your customers that you're committed to serving their needs with clear objectives and unwavering support no matter the circumstances.
Use Omnichannel Marketing to Serve Your Customers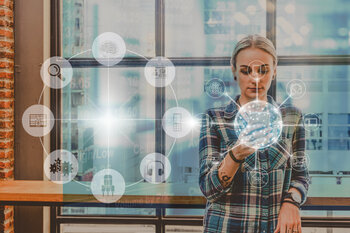 The evolution of brand management and technology has led to a variety of progressive marketing methods. In 2021, you have an assortment of effective marketing channels to choose from, and you should use all of them as they apply to your target audience. Moreover, it's important for all of your marketing channels to work together to provide your customers with a seamless shopping experience. This is omnichannel marketing and it's an important part of all brand marketing strategies. It's so significant, in fact, that it's fast becoming a strategy in and of itself.
Your customers have a variety of needs when it comes to how they want to do business with you. Many of them use their mobile devices, laptops, desktops, and tablets to communicate with your brand. They visit your website and download your app to learn more about your brand and perform certain actions. They visit your retail stores to get their hands on your products before making a decision to buy or keep shopping. In reality, over 80% of consumers consult their smartphones while they're in a retail store. Successful brands have to leverage all these channels to work seamlessly to attract and keep their customers.
Bank of America Creates a Unified Experience
Bank of America is a great example of omnichannel marketing done right. Many people believe omnichannel marketing is strictly for retailers, but the financial services industry is benefitting from it, too. Bank of America's strategy was to create a unified experience for their customers, one that combined their mobile app, website, ATMs, and branch bank locations into one all-encompassing, well-oiled fintech machine. Here are some of the highlights:
Employed on-site digital ambassadors at banks to answer questions and ease customer concerns about the safety and reliability of any new technologies. This was key to keep older customers from feeling alienated.
Built several automated "Robo Branches" (sans human employees) to quickly serve customers and keep them from waiting in line for an available teller at a traditional branch. This allowed people to choose where they wanted to interact with the bank—whether they were processing a transaction or merely checking their account balance.
Created mini branches that were about half the size of a traditional bank branch. Customers made appointments, when necessary, via the bank's mobile app.
All these actions led to the same end result. For example, the activity a customer completed within the app also reflected at local branches, the ATM, and so forth. Peter Wannemacher, a senior analyst at Forrester, a market research company, said:
"It really is about saying 'look, online and mobile banking are the two most widely and frequently used banking touchpoints.' That changes the role branches play in people's financial lives. It's about changing how you serve customers."
Retail (Still) Rocks
When COVID-19 caused retail locations to close their doors—some permanently—it opened another door for digital marketers to advance their agendas. As a result, over 60% of U.S. consumers say they've turned to online shopping more than they did pre-pandemic. Plus about 25% are shopping at places they had never tried before the global pandemic. You could say that COVID-19 partially shut down one channel while further opening another. But this is not ushering in an end to retail, not by a long shot. Retail marketers have and always will have something digital marketers don't. A human element.
The in-person encounters we had become accustomed to will return. You still want to sit on that couch you have your eye on before committing to purchasing it. People still want to try on clothes before they buy them. It's why consumers still want to shop at brick-and-mortar stores. In fact, depending on your age bracket, up to 45% of people say they want to touch an item before buying it. COVID-19 diminished those tactile experiences, but it didn't kill them. Retail marketing in 2021 will feature both online and offline strategies as modern-day marketers use omnichannel marketing to reach their customers.
Evolution of Brand Management: Evaluate Your Vision
With 2020 behind us, brands are hoping for better days ahead. Marketing trends may come and go. It's part of the evolution of brand management. But the methods we just discussed will be some of the most important, fundamental pieces for many marketing initiatives in 2021.
Brands have to adapt to change while staying true to their core mission and beliefs. If you haven't done so already, take some time to evaluate your vision and see if it aligns with your brand marketing strategies. We'd love to help you with that. If you map out your plan properly, you'll emerge from 2021 with the success story you anticipated at the beginning of the year.
To see how our brand management software platform can help your business succeed, contact a BlueSky ETO representative. Let's talk about how we can make 2021 your best year yet.
Financial services marketing has traditionally been a somewhat bland business offering—at least as far as consumers are concerned. But that's exactly why modern-day marketing tactics have had to adapt—to meet people's ever-changing needs. Fintech answers that call in...