For auto industry marketers, there have been some important changes to negotiate over the past year. COVID-19 caused a decrease in sales and changed car dealership marketing habits. But there's good news. As the world begins to "reopen," more people will be looking to buy new and used cars. It's not like a light switch, though. You might have to change some of your old habits to find success. Here's what you need to know to get your automotive marketing strategy up to speed and get more vehicles off your lot quickly.
Car Dealership Marketing: Pay Attention to the Buyer's Journey
Over the past few years, even pre-COVID, the car buyer's journey encountered a significant shift. Statistics show that over 90% of car shoppers are now beginning their search online. They want to take care of negotiating prices and signing documents without the traditional back-and-forth interaction with a salesperson. Blame the stigma of the high-pressure "used car salesman" if you will, but today's buyers want to avoid face-to-face dealings until they're ready for a test drive. Carvana, the popular Arizona-based used car retailer and now the second-largest used-car company in the U.S., saw an industry ripe for change. So they took their automotive marketing strategy and business online.
Why Carvana Works: A Quick Case Study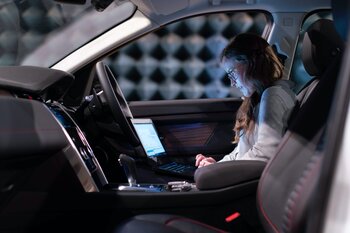 Carvana set out to change the way people buy used cars with their revolutionary car-buying system.
Their slogan is:
"We sell cars, but we're not car salesmen."
In a nutshell, Carvana's automotive marketing strategy promises lower prices, real-time financing, the highest-quality vehicles, home delivery, and a week-long trial period.
Those are pretty convincing arguments for consumers to give them a try, but there's more. They use their website to educate about the buying process from start to finish via short videos and blog posts. They feature customer reviews so potential buyers can see how many satisfied customers came before them. Plus, they offer a great customer experience from start to finish. These are highly recommended marketing practices for any successful business.
Carvana cleaned up all the undesirable tasks associated with buying a car. What used to take hours now takes far less time. In approximately 10 minutes, you can apply for financing, select a payment method, add a trade-in (if applicable), and schedule vehicle pickup or delivery.
It's a straightforward, hassle-free system. Roughly 20-30% of all Carvana customers complete their entire car-buying task online. Of course, you don't have to become the next Carvana to succeed, but there are some car dealership marketing lessons to be learned from them. Namely, give your customers the flexibility to shop as they see fit—whether that be online or at your location. Then deliver an omnichannel marketing experience, so what they start online can easily transfer to a physical location.
How To Get People into Your Showroom (and on Your Lot)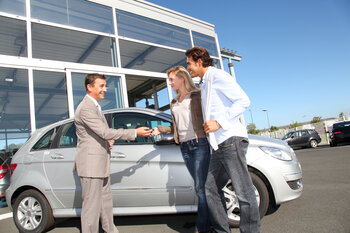 While it's true that people are beginning their car search online and spending less time at dealerships, it doesn't mean they're abandoning the in-person visit altogether. In fact, more than 80% of car shoppers still prefer to go to a dealership to buy a new vehicle. So when your focus remains on getting prospective car buyers into your showroom and/or onto your lot, there are solutions. Your car dealership marketing strategy can start with an incentive.
As with any business, people are more apt to do something if you give them a good reason to do so. It helps if you already have the best prices and top-notch reviews, but in lieu of that (or to complement them), consider offering incentives like:
Discounts
Rebates
Free service
Time-sensitive offers
Additionally, you could target specific demographics with deals that cater to their particular lifestyle. For example, you could offer a special discount or rebate for college grads when they're likely to be looking for a post-college vehicle. A report from Automotive News found that more than 50% of college grads planned to buy a car—and about that same percentage are looking for a good deal. Also, your service department could provide free oil changes. The average oil change costs between $20-100 each time a customer visits, so offering to take care of a future expense like this is a good incentive.
Consumers Do Their Research, So Should You
According to a CNBC study, there are certain times of the year—automotive holidays, if you will—when consumers expect to find a great deal on a car. If you plan your automotive marketing campaigns around these times, you'll give your would-be car buyers what they're looking for.
End-of-Year Events: Three Months of Marketing
When we say End-of-Year, we mean the last three months of any calendar year. The so-called "leftover" models—specifically full-size pickup trucks—begin dropping in price on October 30. In November, consumers usually expect similar discounts on mainstream compact and mid-size cars, especially if they don't trust the reliability of the vehicle they have for another winter. Then December is the time for many popular SUVs to see a discounted price, especially if there's an annual sales bonus in the offing. Finally, there's New Year's Eve, arguably the biggest automotive sales event of the year. This is when salespeople enjoy the biggest bonuses, so it's a great time for an extraordinary marketing campaign.
Memorial Day Car Dealership Marketing
Every May, new car models for the following year begin to appear. So in an attempt to clean out old inventory, it's typically a good time for crafting an automotive marketing strategy complete with a blockbuster Memorial Day sales event.
Monday Automotive Marketing Magic
Savvy customers know that Mondays are usually pretty quiet times at car dealerships. That's exactly why they show up looking for a deal. Take advantage of this window of opportunity and offer special incentives that prospective car buyers can't resist. Give them a reason to visit you on Mondays because of the rewards they're expecting.
Get to know what your customers want and show them that you understand their needs. When they visit your business or initiate an inquiry, they'll get what they're looking for.
Manage Online Reviews to Build Trust
Research shows that customer reviews are one of the most powerful automotive marketing strategies there is. According to an Inc. report, more than 90% of consumers regularly check online reviews. Plus, almost 85% of them trust those reviews as much as they would a personal recommendation. Furthermore, about 70% form an opinion after reading between one (gasp) and six online reviews. So by all means get to work gathering and posting your customer reviews anywhere and everywhere you market your car dealership.
Start with your brand's website and all your social channels (especially Facebook), but be sure to promote your reviews across major sites like Google, Yelp, Angie's List, Bing, and Yahoo, too. There are also some dealership-specific sites you should look at, like Cars.com, DealerRater, Edmunds.com, and Carfax.
It doesn't end with simply being aware of reviews and showing them off, however. It's in your best interests to monitor and reply to them accordingly, especially on any major review sites, like the aforementioned. You can gain some valuable insight into what your customers want from your car dealership this way. Of course, there will likely be some negative and/or unfair things said about your business, too. But you'll have an opportunity to address those remarks and offer to make things right or set the record straight. This builds trust with consumers because they can see that you're paying attention and that you care enough to respond.
Create Sales Opportunities with Retargeting
Statistics have shown that about 97% of consumers will leave your website without buying anything—and they'll never return. That's a startling figure considering you're in the business of selling. Granted, you're not typically going to sell a car on one website visit. But what you don't want to do is lose leads—and that's exactly what the 97% represents in car dealership marketing circles.
Retargeting, aka remarketing, is an advertising technique where your ads are geared specifically toward consumers based on their previous internet behavior. As an example, when someone leaves your website, you can target that prospective car buyer with a display ad as they proceed to other websites and social channels.
The statistics back up retargeting as a viable automotive marketing strategy:
The average click-through rate (CTR) for display ads is 10x better than a regular display ad.
About 70% of marketers are using retargeting to increase their brand awareness.
Conversion rates for retargeted ads can increase by as much as 150%.
Consumers are about 70% more likely to convert with retargeting.
Approximately 65% of online shoppers will notice and consider an ad from a site they recently visited.
If you're not currently utilizing retargeting as part of your car dealership marketing plan, now is the time to start. You'll increase your brand awareness, drive more traffic to your website, and best of all—you'll improve your conversion rates.
Do Email Marketing Right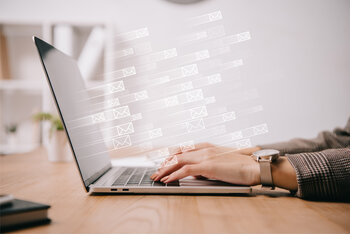 Jay Schwedelson, president and CEO of Worldata, says we're in the renaissance of email. B2B and email newsletter open rates, plus inbox activity, have all increased by roughly 20%. If you concentrate on building your brand's reputation as an expert in your industry—and you create and maintain a personal connection with your list—you'll find the success you're looking for with email marketing.
The ROI tells the tale: email marketers make, on average, $38 for every $1 spent. The key is how they do it. Is there a formula for car dealership marketing? Not officially, but there are some best practices to consider to achieve your automotive brand's best results. Let's take a look at five of them.
Clean Your Mailing List
No matter what type of contact list you maintain, dirty data (bad addresses and such) results in $3 trillion of lost revenue each year in the U.S. If you stay on top of data hygiene and list management, you'll keep your list clean and your campaigns will have a better chance of reaching their intended destination.
Create an Irresistible Subject Line
What makes you open an email, especially when you have to sift through a lot of them each day? Chances are it's a catchy subject line that grabs your attention. Use words and phrases like free, last chance, expires, exclusive, and hurry to produce more opens. SubjectLine.com can help with your wording and strategy.
Make a Clear CTA "Above the Fold" for Best Results
Once you've got the reader into your email message, don't play games. Tell them what they need to know. Include a personalized greeting and make sure you have a CTA that's "above the fold." Why are these two items so important? First of all, personalized greetings grab your reader's attention immediately. People love to see their names mentioned instead of something like "Dear Car Enthusiast." Plus, a CTA that's clearly visible in the top part of an email (before the reader starts scrolling) delivers positive results. Additionally, be sure to repeat the CTA a minimum of 3x throughout the email with different locations and looks.
Connect with Landing Pages
Brand consistency is one of the keys to car dealership marketing success. Your landing pages should look similar to the emails they represent. Tie them together with the headline, copy, and content, and that consistency will lead to improved trust.
Automate, But Don't Overdo It
You might be so enticed by email marketing's favorable ROI that you go overboard with the number of emails you send. More, in this case, isn't always better, however. The typical office employee receives more than 120 emails per day. So don't add to their frustration by sending daily emails. Almost half of all email subscribers flag messages as spam because they receive too many of them. If you want to keep in touch with an established customer, try one email per week to one every month to keep them engaged and see how they respond (open rates, clicks, etc.). Then you can experiment with different times and frequencies to compare the results.
When you're nurturing a prospective buyer, define marketing automation for your brand by simplifying the repetitive tasks that take up a lot of your time. Marketing automation is a great way to trigger messages to your customers based on their actions.
Do Social Media Right
Car dealership marketing must include a social media presence. To what extent is entirely up to you, but it's probably wise to adopt the philosophy of doing less better than doing more poorly. That said, your dealership should be active on social channels like Facebook, Instagram, Twitter, and especially YouTube.
YouTube videos influence approximately 70% of car buyers. If you can establish yourself as a trusted authority in your space by answering frequently asked questions and delivering how-to videos, you'll gain the trust of your viewers. Do this on a regular basis and encourage people to subscribe to your channel.
On the other social channels, tailor your content to match the platform. For example, you could offer an abundance of photos and helpful videos on Instagram. Twitter could include posts with quick details and images to tell a short story. Facebook is a safe bet for combining all of these things. Just make sure to create custom content for each channel. And on all of these social platforms, you could go live at an event that encourages people to visit your showroom or lot.
Finally, consider working with influencers who have an established audience within your niche. For instance, there may be local brands and/or individuals whose business and/or lifestyle fits with your target audience. Collaborate with them to promote your next automotive marketing campaign and you'll drive new business.
Car Dealership Marketing and Brand Management
Building your automotive brand takes time, especially with the evolution of brand management. You're learning about and establishing your target audiences. You're defining your calls to action. And you're finding your brand voice—all while trying to stay ahead of your competitors. A brand management software platform can help you build brand compliance and consistency, empower your local marketers, reduce marketing waste, and increase your overall return on investment. There are so many advantages that you can combine with all the previously mentioned car dealership marketing strategies to achieve your best results.
BlueSky ETO makes the brand management software platform that will strengthen your automotive marketing efforts. If you'd like to take our software for a test drive and/or speak with a representative about your marketing goals, schedule a free consultation with one of our representatives. You'll learn how a brand management software platform can help you build your automotive marketing plan today.
Financial services marketing has traditionally been a somewhat bland business offering—at least as far as consumers are concerned. But that's exactly why modern-day marketing tactics have had to adapt—to meet people's ever-changing needs. Fintech answers that call in...