Financial services marketing has traditionally been a somewhat bland business offering—at least as far as consumers are concerned. But that's exactly why modern-day marketing tactics have had to adapt—to meet people's ever-changing needs. Fintech answers that call in the rapidly changing financial services industry. Many use the word "disruptive"—especially already well-established financial institutions. Almost 90% of financial leaders around the world see fintech as a threat to part of their existing business. So fintech brands must continue pushing the envelope—looking beyond the industry's outdated marketing approach to stay ahead of the competition. We collected some proven marketing techniques that you can use right now. Here are 10 ways to build your financial brand with a fintech marketing strategy.
1. Do You Have a Great Product or Service? Start Your Fintech Marketing Strategy There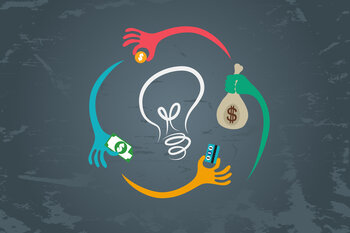 According to Mint founder Aaron Patzer, the secret to marketing is to first build a great product or service. That's what he did with his personal financial management company Mint.com (before he sold it to Intuit for $170 million). For Patzer, it was less about selling an idea to people and more about educating an audience. In turn, these same people helped spread the word about his fledgling budget tracker/planner.
"Ideas are really nothing, it's all in the execution of that idea. Either you have a fantastic idea and you're one of the only people in the world who can do it, or you have a fantastic idea and you have to be the best executor on that idea."
He also noted that there are two rules to abide by when it comes to building a great product or service.
Make something people want.
Capitalize on your competitors' weaknesses.
If you can accomplish both of these things, you're well on your way to having a great product or service that you can successfully market in the financial services industry.
2. Make Sure Your Website is Mobile Responsive
A mobile-responsive website is a no-brainer inclusion for every fintech marketing strategy. Why? More than 60% of all web traffic comes from mobile devices for starters, and that number is continuing to rise. So it's important to cater to ALL your users (but especially mobile) to make sure they're getting the best experience possible. Secondly, you'll make Google happy, and if you make Google happy, you'll rank higher in their search results. Let's take a look at Google's latest update so you know what you have to address with your website.
Google's Page Experience Update: UX is That Important
Google's ultimate mission is to "help users find the most relevant and quality sites on the web." That's why they're always updating their algorithm: to make the web more "delightful." You might be grumbling at that notion because it means more work for you, but you'll rank higher in search results if you heed their warnings. With this particular update, Google has revealed its criteria for search signals and how users perceive interacting with a web page.
Pay Attention to Google's Search Ranking Factors
First, you should pay particular attention to several existing Google search ranking factors:
Mobile-friendliness
Page speed
HTTPS
Then it gets a bit more complicated with something called Core Web Vitals. These are user-focused metrics that provide scores based on certain elements of your web pages, like how long it takes your pages to load, interactivity, and how stable the content is while it's loading. It's technically described with:
Largest Contentful Paint (LCP). This measures your site's loading performance. To provide good UX, the main content of your pages should load within 2.5 seconds relative to when the page first begins loading.
First Input Delay (FID). This measures your site's interactivity. In other words, it's the time it takes to process a user's request, like clicking on a link or tapping a button. To provide a good UX, pages should have an FID of 100 milliseconds or less.
Cumulative Layout Shift (CLS). This measures visual stability. CLS is when a visible element changes its position from one rendered frame to the next. Here's an example. Have you ever been in the middle of reading an article and then the page shifts (with ads, etc.) causing you to lose your place? It also happens when you want to tap on a link or button and the shift causes you to tap on something different. This is even worse! To provide a good user experience, pages should maintain a CLS of less than 0.1.
As long as your website is well designed, optimized for all devices, and up to date with Google's standards of excellence, your fintech brand will be a step ahead of your financial services industry competitors.
3. Create Valuable Content for Your Target Audience
The rule of thumb in content marketing has always been to build trust by giving people valuable content that answers their questions and solves their problems. That's especially difficult in the financial services industry because you're working with people's money. But once they know you've got their best interests in mind, they'll trust you. It's like the old adage: "People don't care how much you know until they know how much you care."
But once people trust your brand, they'll become customers. And once they're customers, they'll love your product so much they'll become avid promoters for your brand. Sure, that's a best-case scenario, but it's a proven formula that's shown itself to be successful.
Fintech Marketing Strategy Content: Brand Examples
Let's look at Mint once again as an example. When they first got started, they built their audience, in part, with a personal finance blog. Mint designer Jason Putorti said:
"We focused on building out a unique personal finance blog, very content-rich, that spoke to a young professional crowd that we felt was being neglected. Eventually, the blog became #1 in personal finance and drove traffic to the app. Our app didn't have a high viral coefficient but we had content that was. Our infographics and popular articles became regular hits on Digg, Reddit, etc."
Here's another example. Credible.com is a San Francisco-based fintech company that educates its audience by "empowering borrowers to take control of their finances." They make complex financial subjects easy to understand and that, in turn, builds trust with consumers.
Set a goal to create content that educates consumers about financial topics that matter to them. Give them the tools they need to manage their financial direction. Then, in doing so, you'll build trust and gain more happy customers. These are the financial marketing solutions that will always work for your brand.
Who's Your Target Audience? Focus Your Fintech Marketing Strategy on Millennials
If you're like many fintech brands, millennials have a special place in your heart. That's because approximately 85% own smartphones and they use them, on average, close to 50x per day. Plus, millennials have about $1.3 trillion of buying power. That's a recipe for success in any fintech marketing strategy.
Millennials have been elusive customers for the more traditional financial services industry companies. Approximately 92% don't trust banks. Plus, their customer engagement is low and they're more likely than any other generation to switch banks. The way to appeal to them is via "financial health." Engage with millennials on their terms and provide value. Explain why your fintech offerings are good for their age group. Convince them how your brand will help improve their lives. You can accomplish this with:
Digital services. Over 90% of millennials select a financial services company based on its digital offerings. Make sure your website and app designs are clean and easy to navigate. Give your customers a variety of ways to contact you, 24/7. Consider features like early paycheck availability, daily balance notifications, and real-time transaction alerts. And by all means, let them deposit/withdraw funds digitally.
Awards and savings. Over 80% of millennials prefer financial products with bonus offerings like rewards and savings that add up over time.
Incentives. Over 80% of millennials would switch to another financial product or service that offered better incentives, so make yours top-notch. An irresistible introductory offer for new customers is a great way to start.
Whatever audience you're targeting with your financial services marketing plan, make sure you understand their expectations of your fintech brand. This will ensure you're meeting their financial needs.
4. Let Artificial Intelligence Gather Data for You
As a modern-day financial services industry marketer, you know how important data is for any fintech marketing strategy. Artificial intelligence, or AI as it has become more popularly known, can help you gather, leverage, and sort through that valuable data. Think of the financial topics that interest your customers. AI can take the data surrounding these areas and use it to target specific customers with personalized marketing techniques and improve your products and services to better match their needs. The result is a better, more defined/targeted product, and happier customers.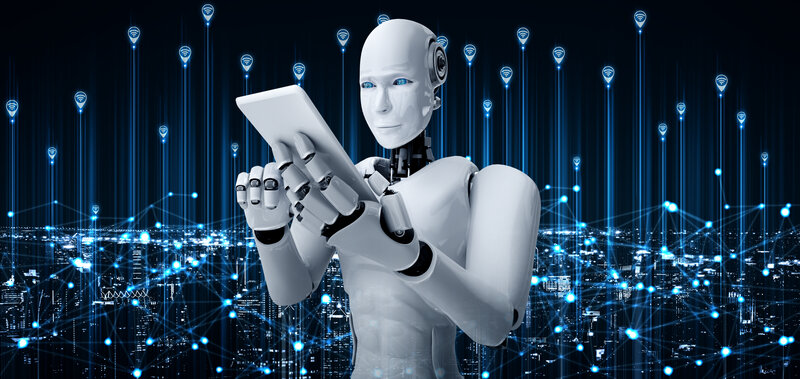 AI provides a wealth of possibilities for financial services industry businesses. You can improve your credit decisions, optimize your risk management efforts, and upgrade fraud prevention methods. However, from a marketer's perspective, AI allows for automation and predictive personalization to help create more accounts and enhance the customer journey.
American technology neobank Chime uses artificial intelligence to create a sophisticated testing approach. In turn, AI reveals which marketing tactics they should deploy. Guy Yalif, CEO of Intellimize, said:
"Chime's marketing team was able to test 21 different ideas and 216 different versions of their homepage while improving its performance. Had they used a simpler A/B model to test out these 21 ideas, it would have taken nine years to do what they did in three months."
AI is quickly changing how financial managers and marketers are doing business. More than 60% of senior managers predict positive results from AI in the financial services industry. Plus, more marketing execs are on board with the tech every day. However you choose to implement AI into your fintech marketing strategy, approach the possibilities with an open mind and see how far it can take your brand.
Chatbots and Robo-Advisors and Apps, Oh My
No discussion of fintech marketing strategy is complete without including chatbots. Traditionally, chatbots will step in for customer service reps when nobody is available to field questions and comments. They also serve to filter requests to specific departments or cut down on the need to speak with representatives by answering frequently asked questions. In a fintech marketing strategy, chatbots can help consumers with a wide range of duties: from providing personal financial advice to guiding payments and more.
Robo-Advisors Find Solutions
Robo-advisors (aka robos) are online services that use algorithms to automatically perform the investment tasks typically done by a human financial advisor. For example, robos can take the information provided by consumers and use computer algorithms to come up with a solution (like an asset allocation) that fits the customer's needs. Then, once a portfolio is created for the customer, robos can manage it by rebalancing, executing trades, performing tax-loss harvesting, and more. Major financial services industry brands like The Vanguard Group, Charles Schwab Corporation, and Fidelity Investments now offer robo-advisors as part of a suite of services.
You Wish Your App Was as Cool as Cleo's
Cleo is a budgeting app that also serves as a sassy AI-powered chatbot. Its tone of voice (TOV) isn't for everyone, but Cleo knows its target audience (18-37-year-olds) and strives to turn them into brand evangelists with its functionality and personality. Cleo creates a budget for you, helps you build some savings, and then texts with you about your spending habits and financial decisions. For example, if you're wondering if you have enough money to buy your family nice Christmas presents this year, you'll get an honest—oftentimes humorous—answer, depending upon your financial situation, of course.
5. How to Use Automation for Your Fintech Marketing Strategy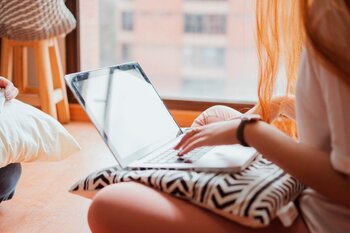 Financial services industry brands have to change their marketing strategy to succeed. As a fintech marketing manager, you're probably more aware of this than anyone else. After all, many of the industry's traditional marketing methods are no longer relevant for many of your customers. Marketing automation has become a necessity for a successful fintech marketing strategy. When you automate your marketing campaigns and get your marketing and sales teams working together, you'll boost your marketing ROI.
Studies show that marketing automation software generates over 450% more qualified leads. If you're not already using it, now's the time to get started.
When marketers think of automation, two things are likely to pop into their minds: lead generation and lead nurturing. The process of qualifying leads is ripe for automation. Tasks like:
Follow-up communication,
Sending relevant content, and
Notifying other departments when a lead meets certain criteria
are all manual tasks that can be automated, thus reducing human error and delays. Automation also provides insights into:
Browsing and buying habits,
How people interact with your content, and
Which marketing channels are performing the best.
Once you've been able to analyze your data—and better understand your audience—you can adapt your fintech marketing strategy to produce even better results.
6. Personalize Content for Social Channels
Almost 90% of consumers say that social posts from the financial services industry are "annoying, boring, or unhelpful." As a fintech brand, if you fall into any of these three categories—or if you're simply looking for a fresh way to engage your audience—here's a solution. It's no surprise that people generally don't want to make their financial business available for public consumption. So they're a little leery to engage with a financial services brand on Facebook, Twitter, or any other social network for that matter.
But social gives you a unique opportunity to connect with consumers.
Know your audience. Rather than posting generic brand messages to your social accounts, determine who your target audience is and cater to their needs. Uncover consumer demographics, preferences, needs, and lifestyles. What kinds of topics are they talking about? Determine their problem areas and address them when you're designing your fintech marketing strategy. This kind of personalization will allow you to get the most out of your social campaigns.
Know your network. Another great way to personalize content for your audience is to simply consider the platform you're posting to. The social media demographics of your customer base will determine which one(s) to use.
Provide value. Above all else, provide value with your posts by featuring helpful and/or entertaining content that's both engaging and timely.
Social media marketing isn't easy. It takes a lot of experimenting, testing, and learning. But you'll know you're doing it effectively when you see an increase in your click-through rates (CTR) and engagement. Remember, prioritize engagement over exposure for the most meaningful results.
When Life Gives You Insurance, Lemonade Makes Art
Lemonade is a New York City-based fintech brand that bills itself as "insurance for the 21st century." They've also been called a "millennial-loving fintech unicorn." In just five year's time, the Lemonade brand has disrupted the insurance game, becoming America's top-rated insurance provider. From a marketing perspective, they've also been disruptive. They took their concept of being different than other insurance providers to a new level by turning their Instagram account into an art show, of sorts. Lemonade's IG gallery is a conglomeration of colorful, dripping paint images and unusual animations. Many of their posts have nothing to do with insurance at all—a bold move that paid off with almost 40,000 avid followers who enjoy the visual content.
The lesson here is to be authentic. It's a topic we discussed at length in our Ultimate Guide to Financial Services Marketing e-book. Just because another brand succeeded with a campaign doesn't mean your brand will, too. Forced authenticity can backfire if it's not perceived as honest, so stay true to your brand's mission. When you try to be something you're not, you risk losing the very customers you're attempting to attract.
7. Provide the Best Customer Service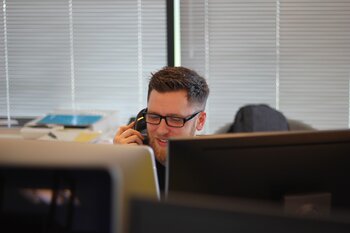 There are mountains of data available when it comes to the importance of customer service for a business. According to Microsoft, about 90% of Americans count customer service as a deciding factor when they're deciding whether to work with a brand. Plus, 60% of them won't hesitate to switch to another brand if you're not meeting their needs.
When you're building your fintech marketing strategy, make sure you have the best customer service plan in place or all your other efforts will suffer. It used to be that customers demanded the best quality and fair prices from a brand's products and services. That's still the case today, but there's so much more. Marketers used to focus on the features of their wares, but modern-day executives know it's more about the results they produce for their buyers. A customer wants to know how your product/service is going to help them have a better financial life. Let's look at a few areas to focus on in particular.
Adapt. Banks and financial institutions have been around forever, but customer approval of and trust in their services is steadily dwindling. Millennials will attest to that. This is your opportunity to change any outdated customer service policies and give your customers the attention and service they want.
Be available. Use a variety of service channels (phone, text, social, etc.) so you're meeting your customers where they're at any given time. Make it easy for them to get the help they need. Offer live chat on your website. Don't keep people on hold when they call for support. And let AI chatbots step in for you when you can't be there immediately.
Build relationships. Once you've made the sale, so to speak, your customer service efforts aren't over. In fact, they're moving to a new level. Brands need to educate their users and explain how to use the product or service. This is where your buyers begin to turn into advocates and promoters for your brand.
If you incorporate these three principles into your fintech marketing strategy, you'll make great strides in having a better customer service plan than your competitors. Let's look at a couple of real-world fintech examples.
Ally Bank's Virtual Assistant
Ally Bank is an online bank—aka digital financial services company. Their virtual assistant, Ally Assist, is a voice- and text-enabled bot that's built into their mobile banking app. The joy in using it is that of convenience. It's like having your own personal bank teller, 24/7, to handle payments, deposits, transfers—even information requests. To top it off, Ally Assist takes all its customer interactions and learns from them. This allows the bank to anticipate future financial needs and recommend better solutions.
Capital One Café: A New Customer Service Model
When Capital One began opening cafes around the country, they introduced an entirely new level of customer service. At any of the 34 locations, customers can get answers to financial questions and manage their finances in a casual, relaxed atmosphere. They can also get a cup of coffee. According to Ryan Laudenbach, Seattle Market Lead for Capital One Cafés, the stores are designed to "facilitate discovery, conversations, hospitality, education, and community events." Now that's relationship building.
8. Use Influencers to Reach Gens Y & Z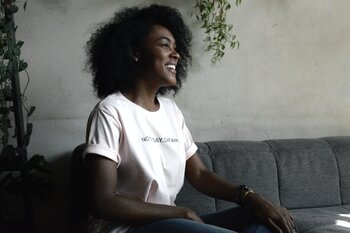 Influencer marketing is a $10-billion business. It has become the fastest-growing channel for brands, ahead of organic and paid search, and even email marketing. It's also the fastest-growing online customer acquisition method. Almost half of all consumers depend on influencer recommendations and about 40% actually bought something when they discovered their favorite celebrities talking about it on blogs as well as social channels like Instagram, Facebook, YouTube, Snapchat, and TikTok.
As a result, the influencer outlook is strong. Almost 70% of marketers plan to increase their influencer marketing budgets, particularly on Instagram.
'Fin-influencers' to the Rescue
The financial services industry has jumped on board with influencer marketing, sometimes called "fin-influencers." Many brands need help appealing to millennials and (to a certain extent) Generation Z because these are demographics that don't naturally trust traditional financial brands. They're not sold on a popular brand name, no matter how big the brand is. But they do pay attention to what their favorite personalities are saying. When financial topics can be complex and maybe even boring (which is a lot of the time), the right influencer can take your message and make it more understandable and relatable. For example, how does the influencer invest their money and why do they do it? Why do they feel managing their money is important? If it's important to the influencer, it's more likely to be important to their followers.
Influencers can help you find new customers as well as motivate your current ones into action modes. Work with an influencer whose image matches your fintech marketing strategy. Many influencers conduct their business with a certain type of lifestyle in mind. Find one that shares your values but also has the power to help introduce a lot of new customers to your brand.
3 More Reasons to Work with Fintech Influencers
Fintech influencers are more than merely your connection to Gens Y and Z. That might be enough in its own right, but here are a few more important ways they can help to enhance your fintech marketing strategy.
Build trust. An influencer with the same target market as your fintech brand can help introduce your products/services to new audiences via relatable content and real-life experiences (eg. saving for a wedding, buying a home, investing in stocks, etc.).
Boost cred and engagements. Influencers already have an audience that trusts them, so their endorsement or promotion of your brand gives you the credibility you need to win their support.
Support community. Influencer marketing can highlight your fintech brand's philanthropic side regarding local events, charitable contributions, and humanitarian or environmental initiatives.
Finally, one thing to keep in mind when you're working with influencers is compliance. You're subject to FTC regulations, but you also have to follow the rules of the  Financial Industry Regulatory Authority (FINRA). For example, influencers can't make financial guarantees to consumers. You also have to make sure you recognize your collaboration as "sponsored" or "an ad." Be sure to dot and cross the right letters because your future campaigns are counting on it.
9. Video Marketing Creates Awareness, Attention
Video is taking over marketing. People watch an average of 16 hours of online video per week, and almost 85% of consumers say they bought a product or service because of watching a brand's video. According to surveys, video marketing helps with lead gen, increases website traffic and sales, and produces a strong ROI. As a result, over 90% of marketers are pleased with the results they're getting from their video marketing efforts. Are you one of them?
Smart marketers use video as part of their fintech marketing strategy. Like any other business, video generates awareness and draws attention to your product/service. In fact, you could argue in favor of becoming a media company first and a fintech second. That's how important video marketing is to the success of your company. You can incorporate video into your fintech marketing strategy based on:
How to use your product/service,
Testimonials from satisfied customers,
Educational content on a variety of financial topics,
Livestreams of events,
Feature stories about your brand
For example, Square, the American financial services and digital payments company, uses video (Square Stories) to showcase how real-world businesses are using their product. Natwest, a UK-based bank, provides a helpful variety of videos on their YouTube channel. Consumers can get everything from answers to popular topics to live streams to tutorials on how to use the bank's mobile app.
10. Brand Management and Your Fintech Marketing Strategy
When you're marketing financial products and services as a fintech brand, it's important to keep your messaging consistent. A consistent brand leads to increased trust and loyalty. That trust and loyalty lead to lifelong customers. When you understand what a brand management platform can do for your financial services industry brand, you'll want to make it part of your fintech marketing strategy.
BlueSky ETO provides brand management software that increases productivity, maintains brand compliance, enhances local marketing, and improves your marketing ROI. Would you like to find out more? Schedule a free consultation with a BlueSky ETO representative to learn how brand management software can take your fintech marketing strategy to another level.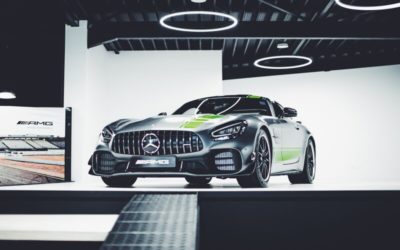 For auto industry marketers, there have been some important changes to negotiate over the past year. COVID-19 caused a decrease in sales and changed car dealership marketing habits. But there's good news. As the world begins to "reopen," more people will be looking to...