Marketing in the financial services industry is a highly-regulated practice. So, when credit unions prepare to advertise their products and services, they're faced with some important questions—regardless of the marketing channel they use. What advertising disclosures are required? Are we compliant? You could look around to see what "everyone else" is doing, but that's not a reliable strategy. Their credit union marketing ideas may be detrimental to your success. Instead, your marketing and compliance stakeholders should discuss the details before the launch of any campaign. But the first step is knowing and understanding the compliance risks prior to creating your marketing strategy. This requires that everyone's on the same page. Thus, to make your job easier, we sought out some of the most credible credit union marketing compliance sources and compiled their recommendations for you here.
Credit Union Marketing Compliance: Establish a Formal Process for Review
Like any solid bank marketing plan, your marketing and advertising materials should have a formal process for review. This ensures that all stakeholders get to review your work before the public sees it. From print ads to "in-store" marketing materials to social media posts and any other type of advertising you do, this is the first logical step in credit union marketing compliance.
Create a Checklist of Review Steps
The best way to be certain that you included all the necessary steps in your credit union marketing compliance review is to make a checklist. This assures that each piece of collateral includes the necessary advertising disclosures. Of course, the disclosures depend on the content of the ad. But when you have a checklist, you can identify "trigger terms" and determine if you need more.
For example, the law firm Kaufman and Canoles compiled a checklist for credit union lobby print marketing compliance which includes:
Customer/Member ID program notice
NCUA official sign
NCUA official advertising statement
Lender/Equal Housing Opportunity provider poster
Nondiscrimination in advertising
Home Mortgage Disclosure Act notice
Funds availability notice
Financial statement
Americans with Disability Act
APR and APY requirements under Truth in Lending and Truth in Savings
Attorney E. Andrew Keeney recommended following the FTC's four Ps to ensure full disclosure.
Prominence. Is the disclosure large enough for people to read?
Presentation. Can consumers understand what the disclosure means?
Placement. Is the disclosure in a place where consumers will likely look?
Proximity. Is the disclosure near the claim it modifies?
Check and double-check your advertising channels to make sure you've followed the correct compliance guidelines. A formal process makes this a priority with each campaign you create.
Analyze Each Product Individually
There isn't a "one size fits all" solution for credit union marketing compliance. Each product you offer may need its own disclosure verbiage. For example, according to attorney Steve Van Beek (via Credit Union Times):
"The required disclosures for a home equity line of credit ad differ from the required disclosures for a closed-end home equity loan."
So, when you're reviewing your marketing materials and ads, focus on the product itself and its particular rules. If you're using the checklist method (as previously suggested), arrange each item according to the product rather than its regulation.
Analyze Each Marketing Channel
In addition to each product requiring its own compliance analysis, each marketing channel also needs a thorough examination. For example, let's say you're considering how to use large format printing. Your goal is to create a campaign for branch "in-store" marketing materials and local billboard ads. Judging from the potential size difference of these ads, you'll need to determine whether anyone can actually read a disclosure while traveling in a moving vehicle. Naturally, a customer could easily read a much smaller point-of-purchase (POP) display from the same campaign in one of your branch lobbies. Bottom line: your regulatory requirements will vary depending on what marketing channels you use.
Credit Union Marketing Compliance: Your Brand's Website
Compliance officer Jennifer Adkisson stresses the importance of treating your website the same as you would a branch location. In an article for CUInsight, she states that credit unions of all sizes must ask themselves:
"If a regulator visited our website today, are we 100% confident that our credit union would pass the advertising compliance test?"
The key is to understand that the rules that apply to your print advertising also apply to your website. These elements range from the proper use of the National Credit Union Administration (NCUA) advertising specs to compliance rules like:
Truth-in-Lending (aka Regulation Z) disclosures. Protects consumers from potentially misleading credit industry practices while also providing honest credit information.
Truth-in-Savings (aka Regulation DD) compliance. Provides consumers with information about deposit accounts so they can make informed choices.
"Not-not-not" or "Not-not-may" disclosures. This is when a bank produces content or advertising about investment- or insurance-related products (eg. Not FDIC Insured).
Fair lending laws. Prohibits discrimination or discouraging certain people from applying for products/services. Credit unions have to show diversity in their marketing (age, ethnicity, marital status, gender, etc.)
Community Reinvestment Act. Prohibits discrimination based on salary. Credit unions must show that they're helping meet consumer credit needs regardless of income.
Consider the One-Click Rule for Online Advertising Disclosures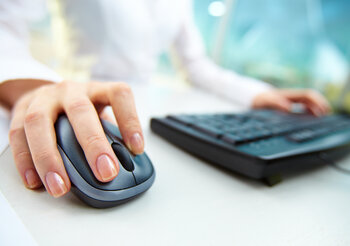 If you're advertising online (website, social, etc.) your credit union marketing compliance issues are more varied, depending on the situation. For instance, you can provide a link that takes consumers to a dedicated page with all your disclosures listed. It's known as the "one-click away disclosure rule."
"The 'one-click away' rule is found in the Commentary to both Regulation Z (Truth in Lending) and Regulation DD (Truth-in-Savings) and deals with how certain advertising disclosures are provided. Generally, when a triggering term is mentioned in an advertisement, additional disclosures may be required. In the case of electronic advertisements, the additional disclosures may be located "one-click away" rather than with a triggering term. But one click means one click."
Alliant Credit Union is one of the largest credit unions in the U.S. They place a series of "one-click away" disclosure links in the footer of their website. In fact, there's one each for general, social media, and third-party advertising disclosures—although they're actually interconnected via anchor links on a dedicated landing page.
Don't Use a Universal Advertising Disclosure
As you may have already guessed, you shouldn't use one disclosure as a "catch-all" for your credit union marketing compliance. Some brands attempt this for as many of their ads as possible, but it isn't a good habit to get into. The end result is typically confusing to your customers (and even your own employees) because you're burying pertinent information amidst verbiage that doesn't apply to the ad in question. Review your ads via categories like:
Content
Product
Ad location
Once you've done that, then you can determine the required advertising disclosures for any given situation.
Just Because a Competitor Did it Doesn't Make it OK
As we mentioned, just because one (or more) of your competitors is doing it (or not doing it) doesn't make it correct. For instance, let's say a competing credit union doesn't include a certain disclosure in an ad. This doesn't necessarily make it OK for you to follow suit. Their credit union marketing compliance may be in question, so don't look to any competitor as an example of the right way to conduct your business.
Brand Management and Credit Union Marketing Compliance
Your credit union marketing compliance strategy is only one part of a total brand management solution. BlueSky ETO builds customized brand management software around your credit union's business goals. We develop brand marketing centers complete with digital asset management capabilities, marketing automation features, digital handwriting capacity, web-to-print solutions, and more. We've created powerful solutions for some of the world's biggest brands in the financial services industry, and we can do the same for your credit union. For a free brand consultation, contact a BlueSky ETO representative today.
Financial services marketing has traditionally been a somewhat bland business offering—at least as far as consumers are concerned. But that's exactly why modern-day marketing tactics have had to adapt—to meet people's ever-changing needs. Fintech answers that call in...