Time is money. You've heard it before, and nowhere is it more true than in the world modern of marketing. As time passes between inception and delivery, marketing campaigns lose their impact, hemorrhage budget dollars, and struggle to reach ROI goals. Lengthy cycle times are a major issue for many companies, but simply rushing through campaign creation isn't the answer. Strategic marketing ideas provide strategic solutions. Here are five ways to make your process more efficient:
1. Simplify Your Vendor Network
How many vendors do you rely on to create and distribute a strategic marketing ideas and campaigns? For many companies, the list is long and growing. They rely on one cloud management company to supply their digital asset management software. Another vendor provides marketing templates for digital collateral. One vendor designs landing pages and digital downloads, while another prints and ships direct mail pieces. In fact, most marketing collateral solutions only work with a single production vendor.
Each link in the chain requires additional communications, approval processes, payment structures, and more. In addition, extra effort is dedicated to ensuring each vendor upholds the same brand standards so that campaigns appear cohesive across channels. It's not hard to see how more vendors require more time and lead to slower campaigns.

That's why one of the most effective ways to decrease campaign cycle time is to reduce the total number of vendors you use. Finding just a few vendors who can handle all of your needs won't just cut down on delivery time—it'll have a drastic impact on your budget. An alternative solution is to manage all vendors from a single marketing collateral solution, like the engineered to order software from BlueSky ETO.
2. Share Your Strategic Marketing Ideas
Is your marketing department an oligarchy? Before you answer, ask yourself this: How many employees have the power to create or modify collateral? If you're like many businesses, the number is small. This hierarchy is often created out of fear—that if too many team members have access, too many mistakes will be made.
That would explain why, according to the 2016 DMA Statistical Fact Book, only 4% of franchise owners are given the power to design or modify branded materials. Companies who identified brand consistency as an important factor reported giving only 8-9% of resellers and partners these capabilities. Even among event and field marketing team members, less than 22% had permission to create and edit marketing material.
What does this mean for strategic marketing ideas? While limiting permissions helps exert control over brand identity, it can also slow production and delivery to a crawl. The time it takes to conceptualize, create, distribute, and analyze each strategic campaign multiplies. Your local marketers are frustrated and losing business as they wait for the strategic marketing materials they need.
An engineered-to-order Brand Marketing Center offers the perfect solution. With a Brand Marketing Center from BlueSky ETO, executives can set specific permission levels for each employee. With the help of brand-compliant marketing templates, local marketers can edit POS displays, direct mail marketing campaigns, email, and print ads to reflect local interests. Social media managers can deliver posts quickly without help from the entire design team. This impacts every level of a company, shaving off endless hours of design and marketing work to make campaign delivery more efficient than ever before.
3. Improve Inventory Management to Decrease Delivery Time
More marketers are taking an omni-channel marketing approach than ever before. They're linking email campaigns, direct mail campaigns, social media endeavors and more into one cohesive marketing campaign. While digital delivery doesn't rely on physical materials, direct mail always will. Omni-channel marketers want to distribute their strategic marketing ideas across platforms and mediums simultaneously, but waiting for print collateral can slow their efforts.
It's the sourcing of physical print stock that often creates this bottleneck. Some marketing experts suggest solving the problem by increasing in-house inventory of printing supplies. But this solution only applies to brands who print and distribute their direct mail in-house. That's a rarity in today's business world. For a more scalable solution, brands should select vendors with a wide array of clients and multiple printing capabilities. These printers will have a larger on-hand inventory and will be far more likely to begin production quickly, without having to order additional supplies first.
4. Strategic Marketing Ideas Rest on a Foundation of Evergreen Content
Does your brand rely on a linear marketing strategy? Many companies do. Their process might look something like this:
Market Research

Data Analysis

Idea Generation

Collateral Design

Lengthy Approval Process

Coordination With Vendors

Separate Delivery Process for Each Platform

KPI Tracking

Data Analysis
Each campaign functions as a separate entity, following a similar path from start to finish. Once the last step is complete, the cycle begins again. For a large part of the planning and delivery process, prospective customers (and even warm leads) are being ignored by the marketing team.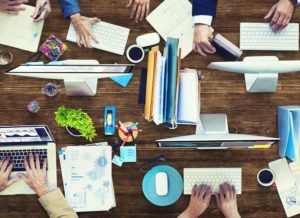 While it may not be possible or effective to restructure your entire process around these strategic marketing ideas, you can ensure a steady stream of leads through inbound marketing tactics. When you do, look to evergreen content as your most powerful resource.
What separates evergreen content? Its ability to consistently flow through the inbound cycle. This content isn't tied to a current one-off promotion. It doesn't reference an upcoming event or discuss a current news item. For these reasons, it remains relevant and can be distributed for months or even years after its creation.
A white paper on management skills, a blog post detailing the importance of your services, an infographic about the history of your industry—they're all examples of evergreen content. Create your own and remember to continuously promote it through automated marketing campaigns and social media scheduling platforms.
5. Identify Choke Points for Strategic Marketing Ideas
Most sales teams have an established funnel. Using marketing automation platforms like Hubspot, they can monitor funnels for each team member and identify where leads are in the buyer's journey. Visual aids like this let sales members and executives see at a glance what actions need to happen to move prospects to the next step in the buyer's journey
Do you have a similar system for your marketing team? If you're shaking your head, you're missing out on a major opportunity. With a tracking system like Hubspot, an internal software program, or even a tool like Slack or a program like Excel, try creating an established funnel for your entire marketing team.
Instead of tracking leads, track your current campaign or campaigns. Make sure that whatever system you use updates in real time and is shared with your entire marketing department. Update and monitor your campaign tracking every day and ensure each action is marked with its date of completion. This way, inactivity is easy to spot. Identify your choke points and "unclog" your drains to keep your strategic marketing ideas in motion!
Speeding up your strategic marketing ideas won't always come naturally. Change can be difficult. To create a more efficient system, you'll need courage to challenge the status quo and innovate new solutions. Remember, just because you've always done something one way, it's not the only way. In the words of Therese Fowler, "Some rules are nothing but old habits that people are afraid to change."
So be a little fearless and adopt one of these strategies. Which do you think will make the biggest impact? How have you been able to speed up your own strategic marketing efforts in the past? Share a comment to let us know!
Building your brand takes time. You're determining your target audiences. You're defining the benefits your brand offers. And you're establishing your brand voice. Plus you're always working to staying ahead of your competitors. But you have to ask yourself a serious...
read more
Summary
Article Name
Smart Strategic Marketing: Reduce Cycle Time With These 5 Tips
Description
Strategic marketing requires strategic solutions. Discover five ways to make your process more efficient to maximize your marketing ROI.
Author
Publisher Name
Publisher Logo