When was the last time you checked a social media account? Today, over 70% of Americans are active on at least one social media platform. So it's no surprise that a solid social media presence and strategy has become a cornerstone of retail brand management. As new social media platforms emerge and giants like Facebook and Twitter roll out new tools, the way we interact with brands online continues to evolve. Here are some of the major ways retail brand management has transformed as a result:
1. The Satisfaction Needle Is Always Moving
Decades ago, brand image was slow-moving. While a major recall, acquisition or innovative product could certainly swing public perception in one direction, the impact wasn't instant. Experts in retail brand management had time to adjust their sails and navigate the changing currents of public opinion. Today, those tides can turn within seconds.
This isn't necessarily a bad thing. Thanks to social media, brand managers can monitor and discover customer concerns in real time. Not only can they respond to questions and issues immediately, they can do it publicly. This allows them to address hundreds or even thousands of other concerned customers at once. It also gives them the opportunity to spin a negative story into a positive one.  
Here's a great example: when JetBlue customer Esaí Vélez's tweeted a complaint about a non-working in-flight TV, the airline responded almost immediately. They empathized and offered him a credit. Within a half hour, the issue had not only been resolved, it had been turned into a customer service success story. Esaí even tweeted, "One of the fastest and better Customer Service: @JetBlue! Thanks and Happy Thanksgiving."
Examples like this one prove that retail brand management needs to play close attention to social media. When they don't, they stand to lose more than one loyal customer, and competitors are always waiting in the wings. In fact, one study found that 89% of consumers began doing business with a competitor following a poor customer experience. Brands simply can't afford not to cultivate customer satisfaction through social media.
2. Increased Brand Reach and Recognition
One of the major goals of retail brand management is to expand brand recognition. Social media makes that possible more than ever before. Just consider these statistics:
Facebook boasts over 1.86 billion active monthly users.

Instagram hosts over 600 million users every month.

316 million people use Twitter every month.

150 million people log into Snapchat every day.
Not only are retail brand management experts able to reach larger numbers through social media, they're able to create highly targeted campaigns. Published ads on social media platforms like Facebook and Instagram can be highly targeted based on gender, age, location, interests, and even past purchase history. Brand managers who take advantage of these targeting features can greatly expand their reach to consumers who are much more likely to be interested in their products.
The result is lower cost per click ad rates and improved marketing ROI with effects that go beyond social media platforms. Increased traffic can lead to higher search engine ranking results. In fact, 91% of eCommerce retailers see a lift in their SEO rank thanks to social referrals. A solid social media strategy can even improve the perception of company culture and boost hiring efforts. According to Pew Research, Social recruiting in HR departments has grown 54% in the past five years.
3. Building Loyalty Through Retail Brand Management Online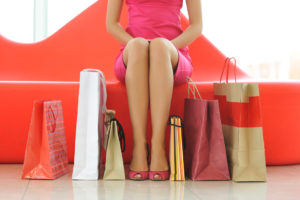 "In the past, brand loyalty grew solely from a love of a product. While that still holds true in many cases, it is now a two-way street: A loyal customer expects something in return," says Alex York SEO specialist for Sprout Social. "Today, brand loyalty can be sparked, cultivated and maintained through smart social media engagement."
Consistent social media engagement is definitely worth the effort. One study by Convince&Convert found that 53% of Americans who follow brands in social are more loyal to those brands. Those who are actively engaged by retail brand management tools form an even stronger connection.
In addition to news and special offers, retail brands can use social media accounts to host weekly Twitter chats, Facebook contests, and more. These unique opportunities offer followers an "edge" and give them incentive to continuously check in with brands online. As they interact and share updates, the brand's exposure, reach, and awareness spreads even more.
4. In-Depth Customer Insights
Retail brand management used to rely on a variety of tools to gauge customer perception. Sales numbers, surveys, even funded research may have provided valuable insight, but the turnaround time was lengthy and the cost was often high. While these tools still exist, social media provides a backdoor for learning what influences and inspires consumers. Here are just a few ways social media provides valuable insights for retail brand management:
Review features on Facebook and other platforms make providing customer feedback quick and easy.

A/B testing of marketing collateral helps brands test campaigns before distributing them across print and other channels.

Follower analytics provide detailed information on audience demographics.

Twitter polls and similar features gauge which products and features consumers care about most.

User generated content shows brand managers how users interact with products in new and innovative ways.
The life of this data isn't over once it's collected. Insights gained can be used to optimize campaigns, shape future efforts and even influence new product designs. Leveraging this data helps retail brand management improve targeting, expand reach, and elevate ROI.
5. Social Strategy Trumps Budget
It can cost up to $4 million a year for a retail brand to advertise in Times Square. A 30 second Super Bowl spot can cost over $5 million. The average CPC of a Facebook ad? Just under 28 cents. What does this mean for retail brand management? It means you don't need the budget of a Fortune 500 company to make a serious impact online.
Smart brands can steal the spotlight from household names, even if they're working with a minuscule budget. This means established brands can't just rest on their laurels. They need to continuously use social listening to monitor consumer conversations. More than ever, they need to keep an eye out for newer brands cresting the social media horizon.
To stay ahead of competitors, retail brand managers face a host of challenges. Social Media Examiner's 2016 Social Media Marketing Industry Report listed these as the top three issues marketers face today:
Understanding which social tactics are most effective (92%)

Figuring out how to best connect with people (90%)

Locating ideal customers and prospects on social networks (86%)
While these issues present serious challenges, they certainly aren't insurmountable. With a smart social strategy, one that adapts to a changing marketplace and leverages customer insights, any brand can rise above the competition.
The way you develop your brand—and the public's perception of it—is significant for the success of your business. Brand management involves all aspects of how consumers associate with your brand. It's an important part of your marketing strategy because it increases...
read more
Summary
Article Name
Retail Brand Management: How Social Media Transformed an Industry
Description
Today, over 70% of Americans are active on at least one social media platform. Here are five ways retail brand management has transformed as a result.
Author
Publisher Name
Publisher Logo