With your luxury brand, the focus is on the superior quality of your product or service. But you'll also need luxury marketing materials to accurately promote them. Whether you're a distributed marketer, a marketing agency, a franchise, or a brand marketer/manager whose stakeholders are spread out geographically or organizationally, you're at risk for a disconnect. This can sacrifice your brand's integrity and consistency.
There's a streamlined luxury marketing strategy that allows you to customize and share your marketing materials so you can reap the rewards your luxury brand deserves. Let's take a look.
Luxury Goods: A Growing Industry
By its very definition, luxury refers to a state of great comfort and extravagant living. Luxury goods exist to help fulfill these characterizations.
What makes something a luxury item? Premium quality comes to mind first, but luxury can be a state of mind, too—an experience. Then there's demand, from those who are willing to pay a premium for higher quality.
The demand for a luxury good increases proportionally more as income rises. Whereas with a "necessity good," demand increases proportionally less than income. The lines that separate a luxury item from the mainstream "necessities" are continually blurring, though, causing a shift in luxury marketing strategies.
Worldwide, the luxury goods industry features products like motor vehicles, beverages, clothing, fragrances, jewelry, luggage, and more. Luxury goods are at the highest end of the market in terms of quality and price. And they're in great demand. In fact, luxury goods and services have been on the increase for many years. The US alone has long been the largest regional market for luxury goods. And it appears that's not going to change any time soon. According to the statistics portal Statista, the US market for luxury goods reached around $179 billion in 2017. That's expected to rise to $182 billion this year.
You can't underestimate value, though. Just because someone can afford to pay a high price, they still expect that price to reflect value. They want to get what they pay for, as the adage goes.
The Luxury Experience
Luxury isn't necessarily something you can touch. It could come in the form of a luxury experience.
One popular example would be a hotel stay at a premier accommodation. In this case, it's more about attention to detail and how you're treated than anything else. As an example, you could stay at a beautiful resort hotel overlooking an ocean. Sure, the property looks the part, but it's the subtle details of the experience that make you feel like you belong there, such as feeling noticed or special in some way.
When you're treated like you truly matter—that's an important part of a luxury experience.
Maintain Brand Equity
Luxury goods manufacturers meet their customers' demands by focusing on how to build their product. They use high-quality materials with superior craftsmanship (not to mention increased pricing) to turn everyday objects into status symbols. But they can't forget about the brand itself.
New markets and segments are giving the industry room to grow, but the challenge for your organization is to maintain brand equity. This is how your customer recognizes why you're different (and better) than your competition. Here are a couple questions to ask yourself:
What is the perception of your brand's name, as opposed to the product or service itself?
Will people want to buy your product because of its outstanding quality or simply because your brand's name is on it?
It takes time to build a reputation as a brand. The first step to building brand equity is to define your positioning. You need to clarify the most important thing your organization stands for, then tell your story. And really bring that story to life in the details. Talk about why your business exists in the first place. You start building your brand before you sell any products, so let people know the reasons they should buy from you.
Creative Digital Marketing Strategies for Fashion and Luxury Brands
It seems like no matter what you're selling these days, it's a competitive market out there. Digital marketing strategies for fashion and luxury brands have to be creative to find ways to connect with their customers. Here's the problem.
Mainstream brands are pushing their way up into the "premium" category while traditional luxury brands move into the mass market. Once-elite fashion brands like Calvin Klein, Ralph Lauren, and Tommy Hilfiger now find their wares in department store closeout bins. Meanwhile, modern-day luxury brands like Louis Vuitton, Dior, and Gucci are targeting mega-popular streetwear websites to help push their products to a new generation of buyers.
True luxury brands have to distinguish themselves from other brands with both their products and their luxury marketing materials to maintain their allure.
Customize Luxury Marketing Materials
Customizing a product to precise standards is a cornerstone of luxury. Allowing consumers to customize your products gives them freedom and creativity—and the luxury experience they desire. That's where "bespoke" enters the picture. It's the epitome of luxury.
Bespoke is not only customized, it's one-of-a-kind. It could be a Raymond suit made from the finest materials available, tailored to your exact size, and only for you. Or a pair of Tod's custom-made Italian loafers that fit your feet like a glove. Or a set of Bentley golf clubs, built to your precise playing specifications, with alligator-skin grips on each one if you'd like.
Customization isn't only for the goods you sell, however. You can customize your luxury marketing materials, too. A localized (thus customized) marketing message attracts a local audience. When you tailor your message to reflect where a buyer typically shops, you add an element of familiarity. If you're marketing a franchise, for instance, include the address and hours of operation of the closest or most frequently visited store using geo-location and user shopping habits.
A Personalized Luxury Experience
For luxury buyers, there's something about having their name on a product. Personalization is a luxury consumer trend in 2018. In fact, 45% of luxury consumers request personalized products and services. And 57% of millennials say they would pay more for personalized luxury items.
Like customization, the same goes for your shared marketing materials. Have you ever personalized a marketing message with your direct-mail campaign? Personalization creates a special connection between you and your customer. People like to see their name in print, and they're more likely to look at your marketing piece if it's personalized.
Use Sensory Branding
Try using sensory devices with your luxury marketing materials. By incorporating smell, touch, taste, sound, and video into your mailers, you'll likely experience increased response rates. It's known as "embodied cognition." The more senses you appeal to, the better encoded the message.
Create Exclusivity
Admit it. When a product is unavailable, it makes you want it more. It's kind of like the "Information-Gap Theory" developed in the early 1990s by George Loewenstein, a professor of economics and psychology at Carnegie-Mellon University. According to Loewenstein, curiosity occurs when we feel a gap "between what we know and what we want to know." You can apply the principle to any product, too. By using your luxury marketing materials to announce that a product is unavailable—or available in limited quantity—it creates more of a desire for it.
Luxury Marketing Strategy: Use Brand Management Software
When it comes to sharing your luxury marketing materials across a variety of channels, brand management software solves a lot of common problems you're likely to face. Like consistency. Consistency is a key ingredient in a successful luxury marketing strategy, but maintaining it throughout all your channels can be difficult.
As a marketing executive, you need to control your content, sourcing, and budgets. That's where a brand management software solution comes in. With it, you'll maintain brand compliance while also increasing your luxury marketing strategy's effectiveness and productivity.
Leverage a Brand Marketing Center
As luxury continues to expand into more industries, expect to find a savvy, segmented market where consumers are more prudent with their purchases. By maintaining a consistent image and message across all channels, your customers will have more confidence in you, and you'll give your brand the best chance at success. A brand marketing center will help. You can customize your marketing materials within brand guidelines and share them with all your stakeholders. They'll have online access to asset libraries, plus other marketing resources. So everyone on your team will have a deeper understanding of your luxury marketing strategy.
Automate Your Marketing Campaigns
Automated (or trigger) marketing campaigns save you time and money. You can automate any of your ongoing or repeating communications and distribute them using print, email, SMS, or social channels, with detailed reporting and tracking capabilities built in.
Automated marketing campaigns empower marketing executives to create repeatable, consistent, campaigns on behalf of their local partners. The combination of templates, creative assets, business rules, and reporting work together to create a robust and engaging campaign.
Take Control of Your Digital Assets
Digital asset management software integrates seamlessly with your brand marketing center and automated marketing solution. This is where you can organize your marketing assets and make them available to any authorized users via a cloud-based, web-accessible portal that features customizable interfaces and storage options.
Applying Digital Marketing Strategies for Fashion and Luxury Brands
As you focus on the quality of your luxury product or service, remember this: digital marketing strategies for fashion and luxury brands need to accurately promote them. This means staying consistent with all the stakeholders on your marketing team, no matter where they're located within your organization.
The US market for luxury goods is continually growing, so you want to be sure to give your brand the best chance to succeed. Maintain brand equity by being clear about what your company stands for, and get creative with your product and marketing to stand out in a competitive market. Brand management software provides a scalable solution to maintain consistency and control of your company's luxury marketing strategy.
BlueSky ETO's software solution is engineered to order for each client. Like the bespoke luxury goods that are tailor-made to a customer's exact specifications, BlueSky ETO customizes your software to your organization's needs. This is not a one-size-fits-all solution. You can create a brand marketing center, build automated marketing campaigns, and organize your marketing assets as you see fit.
Schedule a one-on-one consultation with a BlueSky ETO representative to help your brand share your luxury marketing materials today.
Financial services marketing has traditionally been a somewhat bland business offering—at least as far as consumers are concerned. But that's exactly why modern-day marketing tactics have had to adapt—to meet people's ever-changing needs. Fintech answers that call in...
read more
Summary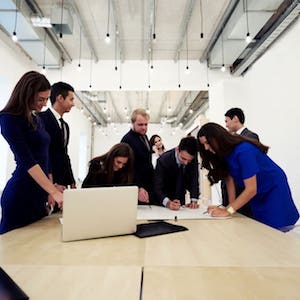 Article Name
Luxury Marketing Materials: How to Improve Your Brand's Profile
Description
Improve your luxury marketing strategy with luxury marketing materials. Learn how to create the image and reputation your brand deserves.
Author
Publisher Name
Publisher Logo