Digital Asset Organization and Sharing Made Easy
Easily organize and share digital files with Digital Asset Management from BlueSky ETO. Here are a few of our clients' favorite sharing capabilities:
Lightbox (favorites)
Unlimited user lightboxes
Personal and public lightboxes
Add notes to assets and lightboxes
Merge, duplicate and remove lightboxes
Contact sheet downloads (allows unregistered users to download assets)
Requesting Assets
Cart for requesting assets
Direct download for pre-approved assets
Customizable usage approval workflows for rights managed assets
Order management interface
Managed dialogue between orderer and approver
Deadline and usage specification

Free Brand Marketing Consultation
Contact us for a free, personalized demonstration of BlueSky ETO brand management solutions based on your organization's unique needs.

Try Live Demo
Experience the easy-to-use power of BlueSky ETO's brand management software with a test flight in our free Live Demo – the Flight Simulator.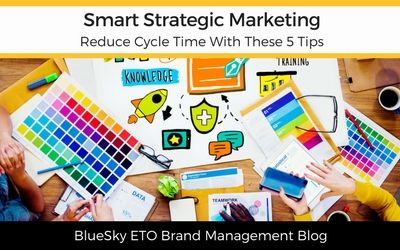 Time is money. You've heard it before, and nowhere is it more true than in the world modern of marketing. As time passes between inception and delivery, marketing campaigns lose their impact, hemorrhage budget dollars, and struggle to reach ROI goals. Lengthy cycle...