Is your design team stressed with creating dozens or maybe even hundreds of ad variations each month? It happens when local marketers need customized content. Graphic artists often find themselves overwhelmed with reworking multiple versions of the same digital ad or piece of print collateral. Not to mention the design briefings and seemingly endless rounds of edits and approvals. There's a better way–a marketing collateral management system.
Here's how design teams can benefit from using brand asset management software.
What is Brand Asset Management Software?
Marketing directors. Distributed marketers. Marketing agencies. Design directors. Graphic artists. You're all wondering how you and your design team can benefit from brand asset management software. Let's start by defining what it is.
Simply put, it's an online location for all your authorized marketing materials. It's a secure, web-based application that houses all the resources necessary to support the marketing concepts and branding efforts for your entire organization. No matter where they're located. This marketing collateral management system allows your distributed marketing team to produce localized pieces of digital and print collateral while still maintaining the organization's global brand identity
It could be as simple as a web-to-print site for brands that have a dozen locations. Or it could be a multi-channel platform that serves hundreds or thousands of users all over the world.
R. Freese is the marketing communications manager for California Casualty. Her 650-employee franchise provides insurance coverage for people who serve their communities—like firefighters, nurses, educators, peace officers, and others. Her experience with brand asset management software proved to be invaluable to her marketing concepts and efforts. Here's what she had to say:
"I'd recommend a BlueSky ETO Brand Marketing Center to anyone who really cares about branding. [It works for] any company or marketing department that wants to continually improve their brand presence. It doesn't matter whether you have 60 employees or 6,000. These tools provide a scalable solution for everyone who represents your brand."
A Brand Marketing Center. Automated Marketing Campaigns. Digital Asset Management. It's all part of a big-picture marketing collateral management system that improves your brand's consistency and ROI.
Determine What Can Be Customized
When you design a marketing template for your brand, you no longer need to build a customized version for every local marketer. Instead, you create one version—pre-built and pre-sized—and decide which elements can be customized.
For example, you could set the fonts, colors, and placement of the information. But you allow a user to choose from pre-approved images. Then they adjust the copy to provide their locally targeted details. Pre-designed templates let users drag-and-drop their way to completed digital or print collateral.
This maintains brand standards while giving the local marketer some leeway with the parts that matter most to them. In this way, the marketing collateral management system saves time and money while giving your brand the consistency it needs to be successful.
Let's look at a sample customizable template:
Changeable image – Users can change the image to appeal to a particular (local) audience. The user selects their preference from the pre-approved images in your digital asset library.
Color changes – Users can change the colors of specific areas. Maybe your brand colors are Pantone 18-3838 and 127 C. You're OK with either color, so you give the user the options. Both colors conform to brand standards.
Layout choices – Provide one or more layouts that meet your design standards. Because the templates are pre-approved, there's no need to deal with permission requests. Present the options and let the user take their pick.
Size options – One size usually does not fit all, so create multiple versions. This will appeal to the needs of your users by giving them some freedom with the final presentation.
Text editing – Don't worry if your users aren't your best writers. In fact, you don't need to worry about what kind of writers they are at all. Which means you don't need to edit their work. They can "localize" the approved copy via a simple form they can fill out.
Contact us – Your address and contact information are already in place, so you don't have to spend time re-entering them.
With this type of marketing collateral management system, you give the user some freedom to be creative, but you still have control.
Store All Your Digital Assets in One Place
Many brands have a collection of logos, product photos, lifestyle images, etc. They use them for their marketing concepts, web design, and even internal documents. The problem is how to make them available to a variety of authorized users, like local marketers. Taking email requests, looking for files, and sending messages back and forth is tedious and frustrating.
Digital asset management allows you to store and organize all your digital files in one secure location. Logos, photos, audio and video files. Any digital asset, even the customizable marketing templates, are fair game. The local user can search for and download what they need. That means you won't have any more desktop scavenger hunts.
A marketing collateral management system also makes it easy for everyone to have access to the most recent version of any given file, like brand guidelines. Just upload the document or file. It will automatically override the previous version and the new file will be available for everyone to use right away.
Provide Brand Guidelines and Information
All your marketing concepts and related content should be available to local users in the Brand Marketing Center. Print collateral — like brand guidelines, style guides, templates for printed collateral, contact lists—are the types of documents users can access regularly. You can make this information readily available for any authorized user with an internet connection. Plus, it saves you from having to fulfill requests for those items.
Aside from downloadable files, the Brand Marketing Center could also include best-practice forums, awards/recognitions, and whatever else you feel is useful for your audience.
The Benefits of a Marketing Collateral Management System for Your Brand
Let's get to the benefits of brand asset management software. You and your design team can talk about how it gives your company a convenient place to "store your stuff." After all, having these assets in a secure, organized portal is a tremendous reward in and of itself. But the benefits it provides will have you wondering how you ever managed your marketing without it.
Here are some of the highlights:
Consistency
When you create content that meets brand standards, you develop the consistency you need to be a successful brand. For example, an approved template that only allows users to make authorized changes is an important step in ensuring you stay consistent. That consistency strengthens your identity and creates trust with your customers.
Freedom
Your design team doesn't have to worry about creating custom content for each local marketer. So they have the time to work on other things. It also frees them to be more innovative and creative. They won't have to spend their day churning out slight variations of the same piece—a mind-numbing task for any graphic artist.
For California Casualty, within a few weeks of implementing their customized BlueSky ETO software solution, they rediscovered one of their most cherished resources: time. Even a feature like easy password retrieval freed up time for users and marketing executives. Not to mention the impact of streamlined web-to-print design and delivery processes. Without the burden of micromanaging, the central marketing department had more time. They could analyze strategies, explore their market, and innovate engaging distributed marketing campaigns.
Value
You can protect the integrity of your brand while still providing for local, national, and global marketing needs. A marketing collateral management system even supports multiple languages. This creates tremendous value for your brand.
Cost savings
Brand Asset Management software can significantly reduce your print collateral marketing costs. BlueSky ETO customers have enjoyed the benefits of speed (50% faster to market) and accuracy (80% less oversight). If you have a franchise, your local stores can order the specific pieces they need for their location. You don't have to worry about shipping too many materials to them—like promotional items that might wind up in the trash rather than their storefront.
Time savings
You can save time at each step in the process. When users design, order, proof, and approve their own customized marketing materials, it turns days into minutes. Talk about time savings.
Your design team creates the elements that remain fixed. In conjunction with the central marketing department, this determines which ones local users can edit. The user-friendly software makes targeted marketing pieces simple to create. And it reduces the need for ongoing rounds of approvals and edits.
Monitoring
You can track and monitor all orders. This keeps you on time and on budget. It also allows you to take an overview of everything that's happening so you can be sure the process runs the way you want it to. Efficiently and accurately. Plus, you have access to specific reporting capabilities to strengthen your sales and marketing strategies. You can check on everything from production and product orders to digital asset searches, website portal usage, and much more.
Customization and Scalability
Not all marketing collateral management systems are the same. BlueSky ETO's software solution is customized for each customer. It's "engineered to order" for your organization, which means it's built specifically for your particular challenges and goals. And it's scalable, so no matter how much you grow, you can adjust the marketing collateral management system to fit your needs.
Your design team works hard to create marketing materials that engage customers through a variety of channels, like printed collateral, direct mail, digital, and point-of-sale materials. You want your marketing collateral to speak with a common voice and consistent imagery that builds your brand equity.
Is your current digital asset solution able to use the content to make customized or localized marketing materials? Asset management software typically acts as a standalone tool to house assets like photos or videos. BlueSky ETO's marketing resource management software solution is different. It's more powerful because it can use the assets to create customizable templates.
Schedule a one-on-one consultation with a BlueSky ETO representative to help your design team begin transforming your brand today.
Financial services marketing has traditionally been a somewhat bland business offering—at least as far as consumers are concerned. But that's exactly why modern-day marketing tactics have had to adapt—to meet people's ever-changing needs. Fintech answers that call in...
read more
Summary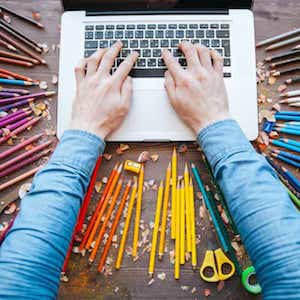 Article Name
Marketing Collateral Management System Benefits for Design Teams
Description
Spending too much time helping marketers with digital and print collateral? A marketing collateral management system can help.
Author
Publisher Name
Publisher Logo