On average, it will take 5-7 impressions before a consumer remembers your brand. What happens when each impression tells a different story? Style, tone, design, placement—when these elements don't work in harmony across all channels, brand image becomes schizophrenic. Establishing trust is an uphill battle. Building customer loyalty? Almost impossible. A strong identity forms the core of every successful brand. That's why smart marketers strive to continually improve franchise brand consistency. Of course, wanting to strengthen brand compliance is one thing. Making it happen is another. Wishful thinking won't lead to increased brand consistency, but following these five steps definitely will.
1. Explain Why Franchise Brand Consistency Is Important
"Because I said so." How many times did you hear this phrase as a child? It's a common tool yielded by exhausted parents, a brick wall placed between obedience and understanding. It may serve a temporary purpose, but without comprehending the logic behind a command, children learn nothing and the cycle of correction continues.
Franchise owners aren't rowdy children, but they are in need of mentoring and guidance. If you strive to improve franchise brand compliance, you first need to explain the logic behind why brand consistency is such a fundamental requirement for your business's success.
The more franchisees grasp what they stand to gain from maintaining brand compliance, the more effective their efforts will be. Here are just a few of the benefits franchisees should understand:
Consistency Ensures Our Franchise Brand Is Telling the Right Story
"A brand is nothing more than a story wrapped around a product or service," says Richard Cordiner, Planning Director of Leo Burnett. "The reason we consistently refer to a small handful of brands is because they're the ones that have got their stories straight." Consistency helps franchise brands get their story straight—ensuring customers understand their products, services and core values.
Franchise Brand Consistency Builds Customer Loyalty
Customers trust brands with a clear and consistent identity. Trust builds loyalty. Customer loyalty is worth 10 times as much as a single purchase. In other words, when brand consistency leads, steady profits follow.
Franchise Brand Consistency Turns Services Into Solutions
When you need a caffeine boost, you make a Starbucks run. When you need a quick answer, you Google it. Major brands become successful when their products and services are adopted as go-to solutions. But this only happens through consistent, targeted positioning—marketing that says "Our brand is the solution to this specific need."
Consistent Marketing Humanizes Franchise Brands
No franchisee wants to be seen as a corporate lackey or greedy businessman. They want to be viewed as an entrepreneur who's invested in their local community. Franchise brand consistency gives brands a personality. It allows companies to feel more like helpful friends than pushy salespeople. And when consumers feel a personal connection to their local franchise, they don't just spend more—they become brand evangelists.
2. Take Ownership of Assets to Improve Franchise Brand Consistency
A chief marketing officer may be able to rattle off the exact Pantone numbers of each color in his company's logo. But what looks like "Greenery" to a franchise owner in Duluth might seem more like "Jasmine" to a franchisee in Phoenix. In other words, the biggest threat to brand consistency is choice. The best way to prevent marketing campaign chaos is to limit unknowns.
That's where a professional Digital Asset Management system comes in. Corporate logos, official fonts, approved images, and brand guidelines can all be stored and shared on a secure DAM system. Franchisees don't have to guess when creating marketing materials. All design elements are easy to find with brand guidelines that are easy to follow, meaning franchise brand consistency isn't just possible—it's automatic.
3. Improve Franchise Brand Consistency With Trigger Marketing Campaigns
Franchise owners wear many hats. In a single day they may train an employee, oversee operations, order stock and analyze their profits. On top of daily tasks, they need to ensure in-store marketing is current and brand compliant. While building customer loyalty should remain one of their main goals, they don't have time to email individual customers or send thank you cards through the mail.
Luckily, Automated Marketing Campaigns can help. With the right tools, central marketing can execute repeatable, consistent, local campaigns on behalf of their franchisees. When a customer needs to renew a rewards card or when it's time for the big annual holiday sale, these "trigger marketing" campaigns will notify customers automatically. Not only does this save a massive amount of work (and billable hours) it also ensures franchise brand consistency.  
Increase Customer Loyalty with Automated Marketing Campaigns.
4. When it Comes to Responsibility: Start Small and Scale Up
When someone decides to open a franchise, they're taking a big leap. Their career path, their finances, even their family life hang in the balance. They have to learn and evolve at a staggering pace in order to turn their investment into a profitable business. And while choice is a good thing, giving new franchisees too many choices can do more harm than good.
Psychologist Barry Schwartz calls this phenomenon the "Paradox of Choice." While more choices may offer better results, too many options can overwhelm decision makers. They can lead to indecision, anxiety and even paralysis. And if there's one thing a franchisee can't afford to do, it's stand still.
That's why it's important for responsibilities to grow with franchisees. Marketing tools should reflect this mentality with scalable structures. Brand Marketing Centers allow for varying permission levels. As franchise owners gain experience, they can gain access to new features. Not only does this help them create effective local marketing, it also prevents them from being overwhelmed and making mistakes. That's why to improve franchise brand consistency, it pays to start small and scale up.
5. Conduct Field Audits for Franchise Brand Consistency the Right Way
Field audits give central marketing the opportunity to get boots on the ground. Visiting a franchise in person provides insight that remote management simply can't. Franchisees should view audits as a proactive way to help them improve, not a tactic used to catch them doing something wrong. They should feel supported by management that isn't afraid to roll up their sleeves and help them achieve brand consistency and success. After all, field audits are only as effective as their methods and their approach.
To Improve Franchise Brand Consistency, Field Audits Should: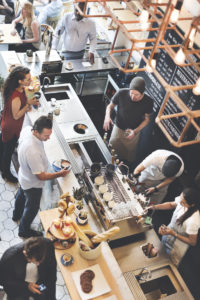 Be conducted at different times. If auditors appear on the same calendar day every year, they'll be greeted by a perfectly polished franchise—not an accurate representation of how the business is really run.
Include online "storefronts." Social media profiles and dedicated webpages function as digital storefronts for a franchise. Brand consistency includes all channels, which means all channels need to be routinely audited for compliance. This is a great time to solicit feedback on what your franchisees would like to see for their digital footprint.
Instruct, not punish. Franchisees should look forward to field audits as an opportunity to learn and grow their business. Instead of marking a checklist and rushing back to HQ, auditors should spend time with franchise owners to learn about their biggest challenges and work together to create detailed plans for improvement at the franchise level and across the organization
Follow up quickly and check in often. If a franchisee isn't following brand standards, auditors shouldn't wait a year before finding out. Check in quarterly or even monthly to discuss challenges and successes and ensure no one's fallen back into bad habits.
Not sure how to make your field audits more effective? Ask for feedback from franchisees. They can explain what they find helpful, what feels like a waste of time, and what they wish they could gain from each audit.
There's No Finish Line to Building Franchise Brand Consistency
Remember—brand consistency isn't a finite goal that can be reached and forgotten. A consistent brand identity is always a work in progress. As the business grows and the network of franchisees expands, maintaining a clear brand image becomes more important, but it doesn't have to become more difficult.
With scalable tools that are engineered around your business structure and strategy, BlueSky ETO makes brand consistency simple. Learn how our tools can elevate your marketing and boost your brand image.
There are almost 30,000 hotel franchises in the U.S. alone. That means to stand out, you'll need to market your business as the extra special entity it is. A brand management software platform should be among your top priorities. This cloud-based software solution can...
read more
Summary
Article Name
Franchise Brand Consistency: Improve Yours in 5 Easy Steps
Description
Wishful thinking won't improve franchise brand consistency, but following these five steps definitely will. Strengthen your brand image with these tips.
Author
Publisher Name
Publisher Logo