Travelers looking to book a hotel can choose from over 15.5 million rooms. When searching for the perfect hotel, visitors will find over 700,000 options across the globe—and that's not counting the thousands of AirBnB homes and condos added every year. Hotel brands either fail or thrive in this competitive market. Is your hotel marketing drawing customers in, or pushing them away?
The Door to Hotel Marketing Success Hinges on Brand Compliance
Hotel marketing is part science and part art. Whether you're marketing a single boutique hotel or a vast network of global resorts, reaching one goal can support all others—achieving brand compliance. To understand why, consider just some of the benefits of hotel brand consistency and compliance:
The Benefits of Hotel Brand Consistency
Strong brand image.

When your hotel brand image is consistent, more travelers recognize your marketing immediately. The more they recognize you, the stronger your brand image becomes!

Increased brand trust.

An unwavering brand image helps you control the conversation around your brand. When that conversation revolves around brand values like quality customer service and clean and relaxing accommodations, travelers become far more likely to choose you over a competitor.

Quicker booking with less confusion.

Travelers don't want to waste time booking their trips. A consistent brand image helps lessen confusion and makes the booking experience faster and easier, leading to more successful bookings for you!

Increased web traffic.

A strong and consistent brand image draws more customers to your brand instead of to affiliate travel sites. As traffic increases, so do your website rankings in search engine results. Increased visibility brings more traffic and the cycle of profits continues to feed itself.

Higher revenue.

More travelers visiting your website means more direct booking—and fewer profit shares with affiliate websites.

Lower marketing and legal costs.

A streamlined approach to consistent brand marketing means a brand's multiple hotel locations work together, not in competition with each other. This drives down marketing costs for things like CPC advertising. Brand compliance also protects against copyright infringement and other legal issues that could require a large budget to resolve.
Whether you're marketing an all-inclusive resort or a cozy bed and breakfast, these benefits should form some of your major marketing goals. To achieve them, you need to start by laying a foundation of brand compliance.
Hotel Brand Marketing 101: Creating a Foundation of Brand Compliance
Brand compliance should never be treated as an afterthought. It should form the foundation for all of your hotel marketing efforts. Here are a few ways to ensure hotel brand compliance and consistency form the center of all your marketing actions:
Make compliance a major part of training.
Partners, franchisees, owners, managers—they should all understand the importance of brand compliance before they become decision makers. Explaining WHY brand compliance is so important (and how it benefits them) should be a core aspect of every training. In addition to explaining the importance of brand standards, brands should train stakeholders on the exact practices your hotel uses to maintain these standards. Dedicate time training employees to use your brand compliance tools and software.
Extend standards beyond brand-controlled sites.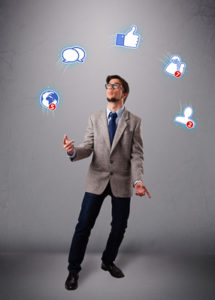 Individuals can easily damage brand consistency. This includes hotel managers who do things like create and share posts about your business on their personal Facebook pages. Make sure your brand guidelines include specific instructions about what employees and affiliates can (and can't) post online. This will help prevent employees from creating content that negatively impacts your brand.
Create a defined (and streamlined) marketing budget.
It can be a good thing to give hotel owners their own marketing budgets. It gives them greater agency and control over their own advertising and lets them create campaigns that appeal to their target market. However, it's not uncommon for these marketing efforts to threaten brand compliance—and to drive up overall costs.
For example, two locations bidding on the same keywords through AdWords will increase CPC costs for each campaign (and possibly make it harder for web surfers to find the location they're really searching for). Create a specific and streamlined marketing budget for each hotel location to reduce costs and confusion.
Following these steps will help you set a solid foundation for hotel brand consistency. Once you've laid the foundation, strengthen your brand compliance by following these marketing tips:
Consistent Hotel Marketing on Social Media
While an essential part of digital hotel marketing, social media accounts are also a major threat to brand consistency. The more distinct locations a hotel chain manages, the larger this threat becomes. Here are a few social media strategies to ensure your efforts help your brand image instead of hurting it:
Create one (and only one) profile for each location.
You wouldn't want travelers who are trying to locate your hotel to arrive in an abandoned lot. Yet plenty of hotels never delete duplicate social media accounts. Potential bookers may stumble upon these digital ghost towns instead of your regularly updated pages. Make sure to do regular searches on social sites for hotels in each location. You might be surprised at how many outdated or duplicate profiles you find! Take your efforts a step further by getting validated on sites like Twitter. That little blue check mark is an easy way to tell visitors, "You're in the right place!"
Use consistent imagery.
Even visitors who don't view your profile page can see you in search results or on posts that appear in their feeds. When they do, it's important that your profiles maintain a uniform identity. Profiles need to uphold your brand image but also be easily identifiable as the specific location they represent. One easy way to do this is to use your brand logo as the icon for each profile. Create a footer or edit the text on each image to include location details. Make sure to add your city or region to your page name or profile handle too. This will help make it easier for users to find you through a quick search instead of getting frustrated and seeking out your competitors instead.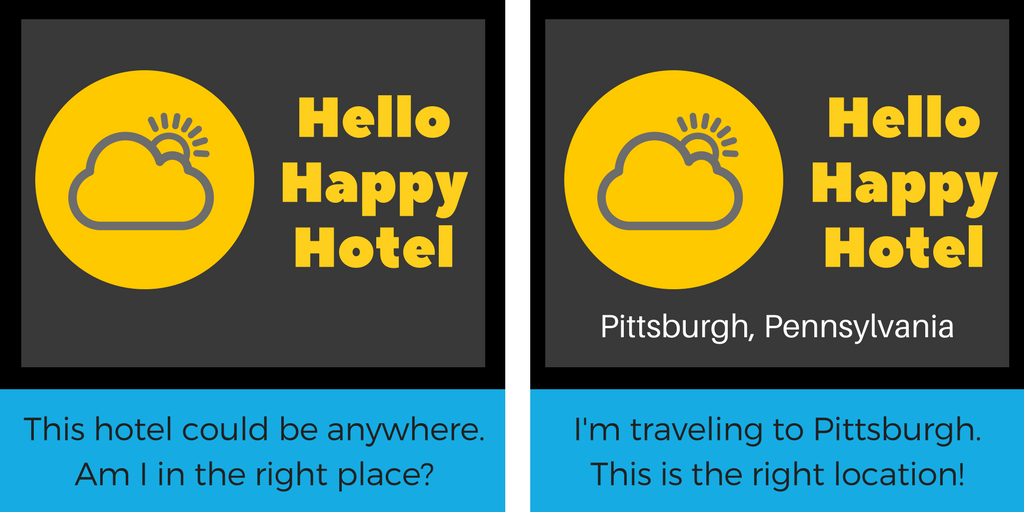 Include this instruction when creating social media guidelines for your hotel locations, i: no filters or frames. These features are a fun way for individuals to show their support for sports teams, causes, or even national holidays, but they have no place on the professional pages of brands. Not only will they detract from overall brand consistency (especially if only a few locations apply them) they're also potentially derisive and can negatively impact bookings as a result.
Give hotel managers the power to promote.
Hotel marketers should strive for brand consistency online, but that doesn't mean that each location's social media presence should be identical. After all, there's no point in having profiles dedicated to each location if they're all churning out the same posts. Instead, these profiles should highlight each location's unique features. Here are a few ways to help each location stand out from the crowd:
Share a photo of the hotel's lobby or outer facade in profile headers. While your icon or avatars should stay consistent, headers and cover photos are great places to show off your unique hotel architecture.
Make your restaurant or spa the star of the show. Is your spa known for its hot stone massages and calming lighting? Did your local newspaper just present your head chef with an award? Have you started offering a Sunday brunch buffet? Don't be afraid to brag by sharing photos and updates on social media!
Be a digital concierge. Not all of the content you share on social media has to be your own. Articles that rate family activities in your area, list upcoming events, or make other local recommendations are a great way to provide additional value to visitors.
Post event highlights. Hosting a dance competition in your ballroom? Sponsoring a team for your city's 5K charity run? Hotel locations should share photos and short updates about events like these. These posts often earn more engagement and can help humanize your overall brand by showing the people behind the hospitality business.
Don't sacrifice compliance when you cede control.
Giving local stakeholders the power to leverage their experience on social media is definitely a good thing. However, without the proper guidance it can put your brand identity at risk. For an easy way to strengthen brand consistency, create branded Marketing Templates. These templates can be correctly sized for Facebook, Twitter, or other social media platforms. Create templates that include brand logos, branded footers with hotel information, or other relevant details. You control permissions and options so local marketers can edit only the aspects of the template that you allow—and none of the ones you don't.
Use marketing templates for everything from brochures to door hangers, though they're especially helpful for adding consistent branding to social media posts. As these posts are shared and reshared across networks, the brand logo or branded text you've added will help users easily identify the hotel locations behind each post.
Creating and Ordering Hotel Marketing Collateral
Each time a new piece of hotel marketing collateral is created, it forms an opportunity for brand noncompliance. Here are a few examples of what can happen when hotel owners and employees aren't given the right tools and guidance:
A hotel's event manager wants to create admission badges for a business conference that's taking place at the hotel. She tries to match the hotel's branded font and colors, but misses the mark. Her attendees complain that the badges are hard to read and look unprofessional.
A local hotel is participating in a walk for charity. While other local businesses arrive in branded team t-shirts, the hotel's approval process took too long and their t-shirts weren't shipped in time. The shirt printing and shipping costs were wasted, and they've missed out on the local marketing opportunity.
One hotel location is undergoing renovations. They often have to create signs alerting guests to changes on the property. Any employee is allowed to design and print signs from the office printer. As a result, the hotel becomes plastered with signs in different fonts and sizes, a few of which even contain typos. Several guests complain about all of the renovations and unprofessional signs on TripAdvisor and other review sites.
These are a few examples of how hotel marketing can go wrong, but they certainly aren't the only ones. Hotel brands need to provide locations with tools that make brand compliance simple in order to address problems like these.
A dedicated Brand Marketing Center is one of the best weapons hotels can use in their fight for brand compliance. These software portals make it easy for hotels to easily access updated marketing and branded materials. Brand managers can also integrate their BMC with local vendors. That way, hotels can order urgent items from local vendors to save time. Most importantly, brand marketing centers give hospitality brand management experts the assurance that hotel marketingcollateral that's executed on the local level is current and compliant.
As new hotel marketing needs arise, so will new challenges and concerns. Your dedicated brand marketing center is a great place to store and share updated brand guidelines. From training materials to best practices for social media managers, make sure to upload your current guidelines to your brand marketing center. That way, stakeholders at the local level can quickly find answers to their questions, even after business hours. The hospitality business is a 24-hour business, so your marketing guidelines need to be available even when your brand managers and marketing team aren't.
Discover how BlueSky ETO can engineer a Brand Marketing Center around your hotel's unique needs and goals, schedule your free brand consultation today!
Financial services marketing has traditionally been a somewhat bland business offering—at least as far as consumers are concerned. But that's exactly why modern-day marketing tactics have had to adapt—to meet people's ever-changing needs. Fintech answers that call in...
read more
Summary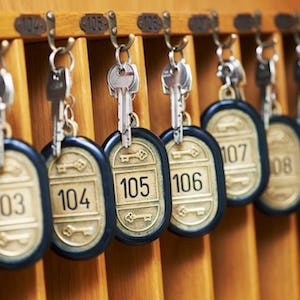 Article Name
Hotel Marketing 101: Your Room Key to Better Brand Compliance
Description
Travelers looking to book a hotel have over 15.5 million rooms to choose from. Is your hotel marketing drawing customers in, or pushing them away?
Author
Publisher Name
Publisher Logo