There are almost 30,000 hotel franchises in the U.S. alone. That means to stand out, you'll need to market your business as the extra special entity it is. A brand management software platform should be among your top priorities. This cloud-based software solution can be the difference-maker in keeping your brand compliant and consistent across your network. Not to mention the empowerment it provides to your distributed marketers.
Hospitality marketing of any kind works best when a brand management solution is in place to keep order throughout all your locations. Want to know more? Keep reading.
What is Brand Management Software?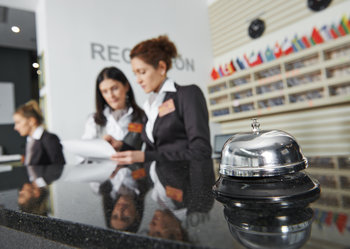 Brand management software is a program which allows you to present your franchise brand in a consistent and strategic manner via a variety of built-in tools. These tools provide an online headquarters of sorts where authorized users can generate, manage, store, and share assets and files to achieve brand consistency across all their marketing channels. How important is consistency? It's invaluable to a franchise business like a hotel, regardless of how many locations you have.
Consistency can be a competitive advantage. If you present your hotel franchise consistently across all your locations' marketing channels, you could see as much as a 25% increase in revenue.
Learn more: Why Brand Consistency Matters
Case Study: DoubleTree by Hilton
Hilton Hotels and Resorts is the 18th-ranked franchise business in the world. Their DoubleTree by Hilton brand had a need for speed and reorganization in creating customized print collateral for their hotels. But their current process was far too time-consuming. Each location had to login to an old portal to access property-specific marketing materials. When they couldn't locate what they were looking for (which was most of the time), they had to find and fill out a form and fax it to the appropriate vendor who, in turn, would charge a hefty fee for their services. There weren't any real-time proofs and there wasn't a way to track usage. Additionally, it took a minimum of two weeks to process the order.
With all that difficulty to contend with, DoubleTree by Hilton turned to BlueSky ETO to create a customized brand management solution that solved all of the aforementioned problems. The end result? DoubleTree saved time and money while instantly providing brand marketing materials to its more than 300 properties worldwide. The brand management solution won a PODi award for "Best Practices" in the "Marketing Resource Center" category.
How can BlueSky ETO work for your brand? Let's talk about how we can help you solve your franchise marketing problems.
Hospitality Marketing: Brand Management Solution Provides Consistency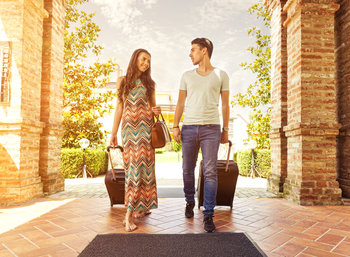 The hospitality industry is built around creating pleasant experiences for its customers. Hospitality marketing, in turn, takes those experiences and uses them to create loyal customers. Unsurprisingly, those very customers prefer a consistent brand because they know what to expect from a company. Each time their expectations are met, that loyalty grows.
It's really an issue of value. Brands that are consistent with their marketing efforts are 20% more valuable than those that aren't. When you have a brand management solution in place, like DoubleTree by Hilton, your franchise hotel marketing efforts can reach new levels. This platform provides compliance and consistency across all your locations and marketing channels, so you can achieve the success you desire.
First, you'll make your brand marketing compliance guidelines immediately available for all your authorized users (provided you've already written them). How you enforce them is up to you, though. By making them available via a Brand Marketing Center, you've already taken a big step in the right direction. This way, your guidelines (and any updates) are available for download and review 24/7.
In some cases, you may have to consider a brand compliance review. After all, controlling your franchise brand's identity is essential to its success.
This DAM Software Makes Your Franchise Hotel Marketing More Productive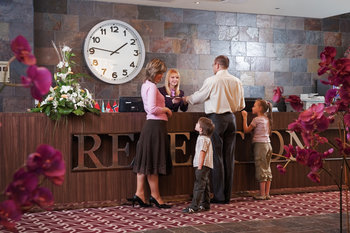 A big part of a brand management platform is Digital Asset Management, aka DAM. Here, you can store all your marketing assets, such as photos, videos, graphics, PDF files, email signatures, and any other digital files you need to share. Approved hotel property images? Check. Authorized logos and logotypes? Check. Welcome videos, brand guidelines, and printed brochures and catalogs? Check.
How does this make your brand more productive? By providing all these types of files (and plenty more) as part of your cloud-based Brand Marketing Center, you don't have to send them to your authorized users via email. Now that's productive. So, your workflow efficiency improves and you eliminate the need to recreate your assets. When you remove unnecesary work, you give yourself time to focus on more important tasks. You'll see your productivity rise on a daily basis and you'll save money.
By the way, research shows that for every $1 you spend on DAM software, you'll get an $8 to $14 return. That's far too tempting an ROI to ignore.
Each Hotel Location Feels Empowered
Many local hotel managers and marketers would like to feel empowered to run their own business while enjoying the support and guidance of a franchise brand. It's not only one of the advantages of a franchise business, it's also a perk of a brand management system. This provides a sense of autonomy for each hotel property, while also keeping the brand standards intact. Everybody wins. The franchisee has a voice in the brand while the franchisor has the control they need to keep the brand consistent and compliant.
As Your Hotel Franchise Grows, So Does Your Brand Management Software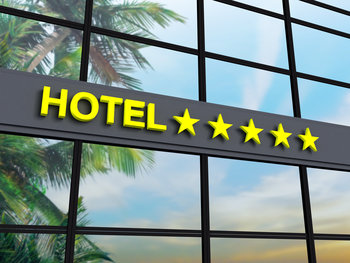 The "hotel franchise segment is an ever-changing landscape," says HotelManagement.com. Choice Hotels is a franchise that knows a bit about change. The hotel brand made more than $1 billion in 2018 with over 6,800 hotels in its ever-growing portfolio of properties, which features a dozen different brands. Your brand may not be growing like Choice Hotels, but as you evolve as a business, your brand management software will expand with you.
That's one of the advantages of a franchise management system. You can add as many authorized users as you need at any given time. If you have a franchise hotel brand and you need to quickly grant access to new properties or users, it's as easy as assigning a new account(s). Every authorized user has only the access you provide to them, which allows you to control what they see and how they can access it.
Reduce Marketing Waste with a Brand Management Solution
Do you remember the days of sending the same marketing materials to every one of your franchise locations? This archaic approach to asset distribution costs time and money. But you don't have to sacrifice either today. In fact, you can prevent the unwanted waste that's associated with unused marketing materials by allowing each of your franchise locations to select only what they need to use.
Hospitality marketing with a brand management solution allows you to upload approved marketing materials to your cloud-based Brand Marketing Center. This way, your distributed marketers can access them at any time. You'll reduce marketing waste and save time and money by not prepping, packaging, and delivering your printed marketing materials to your users.
International Hotel Franchises Need Brand Management
International hotel franchises face a particularly difficult dilemma when it comes to consistently presenting their brand. Consider how different languages and cultures can affect a marketing message. An international property might try to translate and localize their own marketing assets, but an unauthorized message can pose a risk to the brand as a whole.
Yotel is a hip, modern hotel franchise with 15 varied locations around the world. Their brands include YotelAir and YotelPad. That may not seem like a lot of properties (and comparatively speaking, it isn't) but they're still tasked with presenting their brand consistently across all these locations. If they don't translate their marketing materials correctly, the brand will suffer. From Singapore to New York City to Edinburgh and beyond, Yotel achieves brand consistency when they coordinate all their marketing materials.
If you have a franchise hotel with locations abroad, it's especially important to make sure each property remains consistent and compliant with your brand's marketing materials and assets.
Hospitality Marketing: Your Brand Management Solution
Are you convinced that brand management software will help you reach new levels with your hospitality marketing strategy? BlueSky ETO has the technology and experience to help guide you to brand management success.
If you'd like to test drive our software and/or talk with a BlueSky ETO representative about your marketing goals, schedule a free consultation today. You'll learn how a brand management software platform can help you build your hotel franchise business.
Financial services marketing has traditionally been a somewhat bland business offering—at least as far as consumers are concerned. But that's exactly why modern-day marketing tactics have had to adapt—to meet people's ever-changing needs. Fintech answers that call in...
Summary
Article Name
Hospitality Marketing: Why Your Hotel Franchise Needs a Brand Management Solution
Description
There are almost 30,000 hotel franchises in the U.S. alone. That means to stand out, you'll need to market your business as the extra special entity it is. A brand management software platform should be among your top priorities.
Author
Publisher Name
Publisher Logo