HubSpot's INBOUND conferencehas evolved from a small annual marketing seminar into a full-blown gathering of the best business minds in the world. The four-day forum at the Boston Convention and Exhibition Center (aka the INBOUND mothership) features inspiring keynote addresses, hundreds of breakout sessions, and ample networking opportunities for its many attendees. How many? Last year, INBOUND attracted almost 25,000 marketing, sales, and customer service aficionados from around the world. It's an annual pilgrimage for some, but for the first-time visitor, the abundance of activities can seem a bit overwhelming. For you newbs, here's a guide to planning your trip so you can get the most out of your time at INBOUND 2019.
—–
Assuming you've already registered for the INBOUND conference with a Community, All-Access, or Power Pass, it's time to peruse the schedule and pick the sessions that match your goals. If you create a profile via the INBOUND 2019 app, you'll be asked to state what your goal is for attending. This is an important question to answer because with so much going on at the conference, it's a good idea to remind yourself of why you're there. This will help to keep you focused.
Pick Your INBOUND Conference Breakout Sessions
The primary reason you're attending INBOUND 2019 is to take in the educational sessions. A quick glance at the agenda shows more than 250 of them, so good luck choosing. If you have a team attending, it makes it a lot easier to cast your learning net over a wider area, so to speak. Each member of your team can attend a different session for each time slot. If you're going solo, you'll need to select your sessions very carefully.
Don't feel overwhelmed, though. Take some time to peruse the schedule. There are some sessions that are no brainers because they have no competition, like the opening Tuesday night INBOUND Studio and Spotlight with Elizabeth Gilbert. But when you have more than 20 sessions to pick from at 10:45 each morning (and so forth throughout the day), you've got some decisions to make. If you access your account via the INBOUND website or app, you can highlight (star) the sessions that interest you the most. This allows you to narrow them down. From there, you can then make your final selections.
Alex Chamberlain, the marketing manager for ERA Environmental Management Solutions in Bala Cynwyd, Pennsylvania, has been attending INBOUND for several years. Each year he takes a new member of his team on the four-day journey and advises preparation prior to the conference:
"Most INBOUND first-timers are in awe of the massive scale and production value. It's very easy to get overwhelmed by all the options. The best advice I've given when sending my staff is to take time to prepare in advance. Choose sessions that already align with your strategic goals and register as early as possible. Assess what your business wants to do one year from now, and reserve sessions that reflect those objectives. There's so much to learn at INBOUND that you need to be strategic about how you spend your time."
Register for HubSpot Conference Sessions in Advance
If you have an All-Access or Power Pass, you can make reservations for your sessions before you arrive. By reserving a seat for your desired sessions, you can guarantee that you'll get in. Just be sure to arrive at least 10 minutes before they begin. With the INBOUND conference app, you'll see a tidy list of:
All Sessions
My Interests
Registered
Once you register, you'll find all your sessions under—you guessed it—Registered. This lets you see everything you're attending at a glance and you've got a nice schedule of your events to refer to anytime. Just because you've registered, however, it doesn't mean you can just waltz into the session at any time you please. You need to arrive at least 10 minutes early or you may lose your spot. Also, if you don't register in advance, there's still a chance you could get into some of the sessions. You'll have to stand in a waiting list line, however. Any sessions with extra space will allow non-registered attendees to enter on a first-come, first-served basis 10 minutes before the session begins.
Prepare for Sessions Before the Conference
Once you know what sessions you're going to attend, it's a good idea to prepare in advance. This will help you get the most out of each session. Research the topic beforehand. Then follow the speaker on social and check out any related content they've shared. Have they written any books or contributed to journals, publications, or podcasts? It's likely that they have, as the lineup features some very accomplished experts. Get to know the subject and speaker so you're well prepared.
Also, if you have any questions come to mind while prepping, write them down and be ready to refer to them. Many sessions conclude with a Q&A as time allows.
Take Notes to Refer to Later (and Share)
Notetaking is a big part of a successful trip to INBOUND 2019. There are a variety of ways for you take notes. You can use the traditional pen or pencil and a notebook—or you can fire up your tablet or a laptop. Just choose the notetaking method that works best for you. Keep in mind that you can also take pictures of the presentation slides if that helps. Just make sure your flash is OFF, please.
Carrie Pasquarello is the CEO at Global Secure Resources, Inc. in Los Angeles. INBOUND's sessions helped to propel not only her business, but her entire career.
"Strategies, tools, and techniques are what drive my business. INBOUND was a great way to explore, empower, and make connections. I was motivated by the amazing messages the speakers shared."
The messages will be incredible, but don't attempt to write down everything the speakers share. Instead, concentrate on the concepts and ideas from the talk and how they apply to your work. Listen attentively, write down important information, and have your smartphone ready for photos. Keep in mind that you'll have access to some of the presentations after the conference.
Networking Opportunities Abound at INBOUND 2019
Another big part of INBOUND 2019 is networking. You'll have plenty of opportunities to mingle with your fellow attendees at evening get-togethers. Tuesday night (September 3) is the INBOUND Welcome Party. Wednesday night is Club INBOUND Happy Hour. Thursday night is INBOUND Rocks, featuring live entertainment and an after party. Outside of these official INBOUND events, expect an array of other social activities around Boston.
Some companies offer parties at nearby restaurants. Follow #INBOUND19 on social to find out about all the networking events. This will help you to see what's going on before and during (even after) the conference. Also check out Eventbrite and Facebook events to find relevant networking experiences nearby. For example, on Tuesday (before the conference officially begins), Women@INBOUND is hosting a free Happy Hour event at M.J. O'Connor's restaurant at the Westin Waterfront Hotel, located next door to conference headquarters. This event features the obvious social component, but it also includes a "Fireside Chat."
Here's a great tip from Britt Laeger, marketing manager at StoryTeller. She has attended the INBOUND conference four times and recommends that if you meet someone new at the conference, add them to LinkedIn or Twitter on the spot (or soon thereafter). That way they'll remember who you are. When you send an invite to connect, remind them of what you talked about. This will make the networking aspect more meaningful.
Meet and Greet
It's also a good time to meet your HubSpot account rep, if you have one. Set up a time to say hello and/or talk about what you've been working on together. Plus, look for HubSpot vendors and partners manning booths around the conference. They're there to help you with website dev, your inbound marketing strategy, the best ways to create content, and more.
Tools of the Trade: What to Bring to INBOUND 2019
Is there a checklist of items you should bring with you to INBOUND 2019? It really depends on each individual person, but here's a quick rundown of some "necessities" that you might want to seriously consider.
Laptop and/or tablet. If you're taking notes at the sessions, a laptop or tablet is pretty much a necessity (unless you're going "old school" with a notebook and pen, which is fine, too). Plus, if you need to get work done for your job while you're away from your desk, this is a no-brainer.
Portable charger. Do you really want to battle with 25,000 other attendees for a wall outlet? Don't bother. If you have a portable charger or power bank, bring it along and be sure it's rejuiced every night so it's ready for action the next day.
Notebook. It never hurts to have a notebook (any size) and pen (or pencil) on hand.
Snacks and water. There will be coffee, tea, and water around the convention center so you can grab something quick between sessions. You'll also find some concession stands open for snacks. If you don't want to bother with any of this, bring a portable nosh and a bottle of water with you to stay fueled and hydrated.
Swag bag. Club INBOUND vendors offer free goodies for signing up for demos, or even just stopping by their booths. If you plan on loading up, don't forget a tote bag!
Business cards. Networking can get pretty awkward without this conference staple. Make sure your card case has a spot to store the cards you receive as well.
What to See in Boston
You're in one of the most historic cities in America, so get out and about as time allows. In fact, if you can arrive early to take in the sites before the conference begins, that will save you from thinking about it during the conference. Either way, spend some time exploring this fascinating and extraordinary city.
Here are a few of the more popular places you should consider visiting when in Boston.
Freedom Trail. If you only have time to visit one landmark, try the Freedom Trail. This historic 2.5-mile trail runs through downtown Boston—from Boston Common to the Bunker Hill Monument. It features 16 locations that are significant to the history of the U.S. You probably won't have time to walk the entire thing unless you have a full day before or after the conference. If you only have a couple hours, pick a few of the highlights, get your walking shoes on, and check them out. Some of the sites include Old North Church, Paul Revere House, Faneuil Hall Marketplace, the USS Constitution, and more. If you'd rather have a tour guide, take the 90-minute "Walk Into History" for $14.
Fenway Park. Whether you like baseball or not, check out historic Fenway Park, home of the Boston Red Sox and the oldest ballpark in Major League Baseball. It's known as "Baseball's Most Beloved Ballpark." Lucky for you the Red Sox are home all week. They host the Minnesota Twins (September 3-5) and the New York Yankees (September 6-9). A one-hour Fenway Park tour costs $20. Because the Sox are home all week, tours leave every hour on the hour from 9 a.m. until 4 p.m.
Boston Tea Party Ships and Museum. The site of the Boston Tea Party was voted as the top patriotic attraction in Boston by USA Today. Here you can step back in time and remember the most crucial event leading up to the American Revolution. Plus, it's located just a half mile from conference headquarters.
Skywalk Observatory. If you'd like a literal overview of Boston (and beyond), visit the Skywalk Observatory, located on the 50th floor of the towering Prudential Center. The cost is $21 to go to the top.
Waterfront. If you want to take a morning walk before your sessions begin, try the Harbor Walk at Boston Seaport. Grab a coffee and enjoy the scenery and sea breezes. It's a relaxing way to start the day. Here's an INBOUND Conference "Campus Map" that will show you how far the BCEC is from the Harbor Walk. It's approximately one block.
For more information on what to see and do while you're in Boston, check with the Greater Boston Convention & Visitors Bureau.
How to Get Around Boston
If you're wondering how you're going to get from place to place while you're in Boston, fear not. Boston is an easy city to get around in as long as you're not driving a car yourself. So, you probably don't want to rent one. Besides, parking's limited in Boston and it's also very expensive.
Boston Logan International Airport is a mere two miles from conference headquarters at the BCEC, so it won't take too long to get into the city if you use public transportation.
Your best bet is to take the Massachusetts Bay Transportation Authority (MBTA) Silver Line bus (aka the T) to and from the airport. The nearest drop off/pick up is the Seaport/World Trade Center Stop just across the street from the BCEC. There's no charge to get into downtown Boston, but it's $2.10 for the trip back to the airport.
Also, check to see if your hotel offers free shuttle service to and from the airport.
If you insist on taking a cab, it'll run you about $30. Of course, you can also try Uber or Lyft, but with any of these private options, you'll have to cover the tunnel tolls and an "airport fee" in addition to their regular fare. Plus, it takes almost half an hour to get into the city this way.
Once you arrive in Boston, put on your walking shoes because you're in "America's Walking City." Between the conference sessions and exploring the city, you'll accumulate plenty of steps.
Here's Some Helpful Info While You're at INBOUND 2019
You're probably wondering what you should wear and what you're going to eat while you're at INBOUND 19. Here are the answers to those frequently asked questions and some helpful tips to consider while you're here for a few days.
Where's a good place to eat lunch?
You'll find a fleet of Boston's best food trucks (about 18 of them) parked outside the BCEC. Visit the Lawn on D each day of the conference from 11:30-2:30. Lunch is included with your All-Access or Power Pass.
If you have a Community Pass, you can buy lunch inside the BCEC.
What should I wear?
You can wear whatever you want, but business casual always works. There's no dress code, though. But let's talk footwear for a moment. Since you'll be walking a lot, wear your most comfortable shoes. Consider dressing in layers if you tend to get cold inside where it's air-conditioned. When you go outside for lunch, it will likely be much warmer. After all, it's still officially summertime in Boston.
Where do I pick up my badge?
When you first arrive at INBOUND, pick up your badge at Check-In, located in the North Lobby of the BCEC along the Summer Street entrance. Check-In will be open throughout the entire conference. Have a government issued photo ID ready and open the app with your badge pickup QR code. You'll also have to take a quick selfie for security purposes only. It won't appear on your badge. Once you get your badge, make sure it's with you at all times. If you lose it, it might cost you $50 to get a replacement.
Is there a bag check?
There isn't a bag check at INBOUND this year, so be sure to stash your luggage at your hotel until you're ready to leave Boston. You can bring a standard backpack, messenger bag, or handbag to the conference, but nothing larger, please.
What to Do After the INBOUND Conference
When you get home from INBOUND 2019, take some time to go over your notes and get them into a sensible order for sharing with your co-workers. Determine how you can take your new-found knowledge and apply it to your work, because that's the reason you went to the conference in the first place. Discuss the lessons with your team and see how you can implement them into your business and marketing strategies.
See You at INBOUND 2019
If you're planning to attend INBOUND 2019, be sure to say hey if you see one of us from the BlueSky ETO team.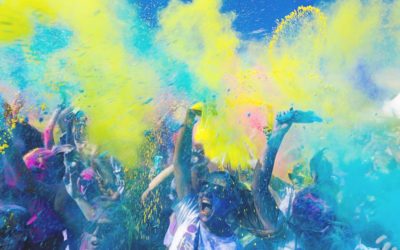 With so many brands vying for the attention of consumers these days, it's difficult to find just the right manner of marketing your business. You probably want to mix the latest digital capabilities with tried-and-true traditional marketing methods. But what about...
Summary
Article Name
INBOUND 2019: The Ultimate Guide for First-Time Visitors
Description
HubSpot's INBOUND conference has evolved from a small annual marketing seminar into a full-blown gathering of the best business minds in the world. The four-day forum at the Boston Convention and Exhibition Center (aka the INBOUND mothership) features inspiring keynote addresses, hundreds of breakout sessions, and ample networking opportunities for its many attendees.
Author
Publisher Name
Publisher Logo