Over 3 billion people across the globe now have access to the internet. With that access comes a wealth of knowledge. Consumers are more empowered than ever before to acquire information and discover solutions on their own terms. As they do, the dynamic between corporations and consumers is evolving. Financial marketing solutions are evolving with it.
Standard business practices are no longer enough. To remain competitive and penetrate new markets, financial services rely on innovation. Looking to take your financial strategic marketing to the next level? Try these tips from experts in the field:
1. Define and Refine Your Brand Voice
"Finance intimidates many people," says Brenna Lemieux, Content Director for Insureon. "Figuring out how to talk about it in a way that's informative, engaging, and not intimidating goes a long way toward building trust and getting your message across."
How should you form your "voice?" Brenna recommends getting to know your audience. "What do they care about? What scares them, and what keeps them up at night? Once you know that, frame your services in terms of addressing those issues. Companies like Fundera, Square, and Freshbooks are great models. They strike a balance between straightforward and trustworthy. Their tone isn't so casual that it sounds like "fake news" or clickbait, and also not so formal that it reads like a technical textbook."
Personas are also a great way to manage these customer profiles. Learn more in our recent article "3 Ways to Make Marketing Personas Work for You" or at Hubspot.com.
2. Build Bridges to Financial Marketing Solutions
"The most obvious yet the most difficult marketing strategy to implement is to take inherently complex financial services and make them digestible and comprehensible to the majority," says Björn Lapakko, Marketer at Funderbeam.
It sounds simple enough, but the more financial knowledge and experience you gain, the harder it becomes to weed out the jargon. To keep things clear and concise, Björn recommends building bridges between teams. "What has benefited myself and Funderbeam the most, is how close our marketing team works with our web engineers, sales professionals, and legal representation, both in terms of proximity and our personal relationships. Our friendships and collaboration across these departments uncovers and addresses common errors in communication and user experience where the majority of users would typically get lost in either industry-specific jargon or complex systems. These issues can make even the most intuitive task exasperating."
Creating these connections can also create financial marketing solutions by uncovering new customer concerns and questions. Each problem that's discovered presents an opportunity to position your financial brand as the solution.
3. A Solid Social Media Marketing Strategy Should Acquire AND Nurture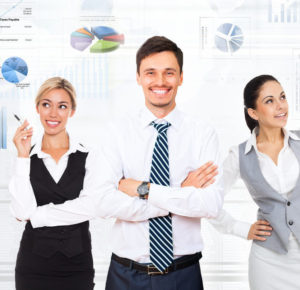 Andrew Fiebert is the co-founder of Listen Money Matters, a personal finance podcast and blog. He believes that social media is an important part of financial marketing. However, marketers shouldn't forget an important segment of their social media audience—existing customers.
"Social media can increase the effectiveness of financial marketing solutions if done correctly," says Fiebert. "One tip for employing social media for financial services is to use it to engage your current clients. A lot of people think that social media is a great way to get new leads and new customers, but it can also build lasting relationships with the customers you already have. Invite your current customers to follow you on Pinterest or Facebook, then remember to also tell them what they stand to gain. Do you host exclusive promotions and contests on your page? Will they have access to information that you don't share anywhere else? Make it worth their while to have a relationship with you on each platform."
Not sure how to improve your presence on social media? Don't be afraid to browse competitors' profiles for inspiration. How are they engaging their current customers? Which posts are earning the most interaction and why? Which missed opportunities can you spot to leverage your brand?
4. Use Automation to Scale Financial Marketing Solutions
Chasen Nick, Digital Marketing Strategist at RAMS Home Loans had this advice for those looking for home loan marketing ideas. "Automate as much as you possibly can. Marketing automation exists to help businesses scale relevant, worthwhile engagement for a large population of potential customers. No one has the time to send highly targeted emails to thousands of people at a time, but marketing automation can help."
Automated marketing campaigns can be used to send messages that are triggered by specific actions. For example, a user who downloads a whitepaper on investment tips can receive a thank you email immediately, a follow-up email in a few days, and an alert about a newly published whitepaper in a few weeks. Marketing automation can even send direct mail marketing pieces or execute print ads and other creative assets for local branches.
Reduce Campaign Management Time Up to 80% Through Automated Marketing
"With marketing automation, it's very important that you segment and personalize," says Nick. 
"Your customers want to be treated like humans, and it's important that they feel valued and respected. When writing emails and other messages, try your best to make them sound as un-automated as possible both in the content and the design. Try addressing the customer by their first name, and make product recommendations based on the customer's purchase history and their browsing data. Offer relevant discounts or coupons. Sometimes customers need an 
incentive to help them make a purchase, and these are great ways to do it."
Don't forget to continuously monitor your efforts. There's a lot to be learned from click-through rates of automated campaigns, and A/B testing of subject lines, graphics, and CTAs can boost positive results even more.
5. Build Trust Through Content Marketing
Taylor Oster, Director of Marketing for Influence & Co., recommends leveraging content to build trust with financial marketing solutions. "We've found that content plays an important role in engaging customers in many industries, but some of the most effective industries are those where it is important to build trust."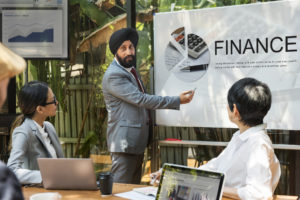 "Content marketing is a great strategy for financial services because it allows these companies to form an authentic connection with their audience, showcase their expertise, and ultimately build trust. Obviously, trust is something that's very important for people in financial services. A recent study showed that 70% of people would rather learn about a company through articles than ads. Consumers are beginning to tune out advertising techniques, companies can combat that by publishing high-quality thought leadership content that their readers actually want to read."
Oster points out that many financial companies build trust through their owned media (like blog posts on their websites). However, guest posting shouldn't be overlooked. "Guest contributed content is the great way to reach a new audience that is not already visiting your website, and communicate credibility. Readers will be impressed that you appear in a high-quality online publication."
If you do choose to make content a central part of your financial marketing solutions, keep these tips in mind:
Content should provide solutions. Ask yourself, "Which problem am I helping my customers solve?"
Publish content on websites and in publications that speak directly to your ideal customers. Where do your buyer personas go to get info? Start there.
Remember, your efforts aren't over after you publish a piece of content. Continuously promote your content on social media. Actionable, evergreen content can drive traffic and convert leads for years to come—but only if you continuously promote it!
6. Use Digital Tools to Uncover Concerns
Explaining financial services in terms anyone can understand is incredibly important. However, many financial marketing experts struggle to create content that can elbow its way past existing pages created by major brands. Uncovering more specific questions and concerns can help.
Eagan Heath runs marketing agency Get Found Madison. He recommends using Answer the Public to brainstorm ideas for new content. Type in a topic and Answer the Public will use analytics data from Google and Bing to generate an extensive list of questions. A quick search for "home loans" provided 146 results. Each could be used as inspiration for a blog post, e-blast, digital ad or even social media post.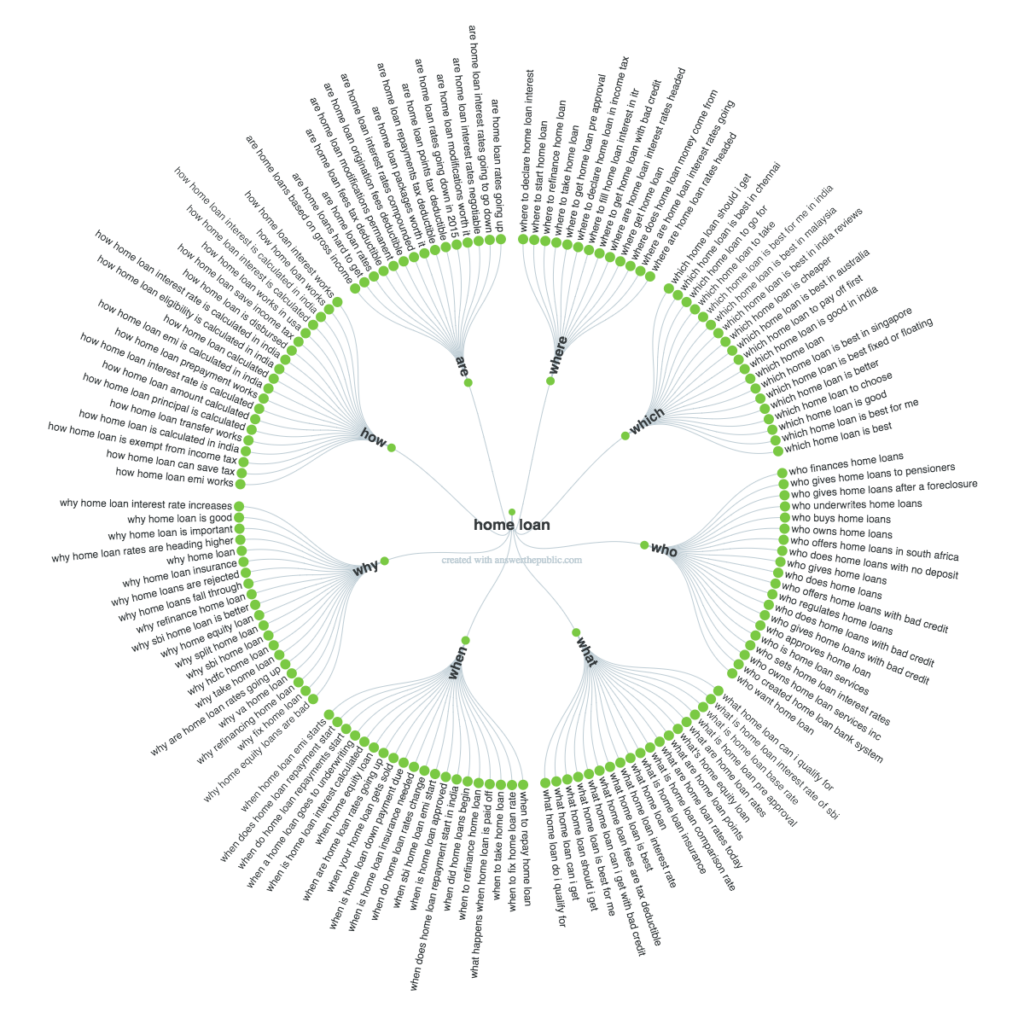 Try searching for each of the financial services or products your brand provides. When you do, you'll uncover some serious inspiration!
7. Shorten Production Time and Reduce Waste with Brand Marketing Centers
A solid marketing strategy always aims to boost ROI. Nowhere is that more relevant than in the field of financial services marketing. Finance experts know that using the right tools can make a world of difference, which is why so many of them rely on Brand Marketing Centers. When you consider all the benefits of a BlueSky ETO Brand Marketing Center, it's easy to see why:
Marketing templates allow local branches to customize collateral without threatening brand compliance.

Cohesive branding unites social media, direct mail, and point of sale displays to create unified omni-channel campaigns.

Creating only the materials needed for each campaign and location reduces design and approval time. It also saves on production costs. Marketers don't throw money away on print collateral that ends up in the trash bin.
In addition to these benefits, BlueSky ETO Brand Marketing Centers are scalable and engineered to order. If you want to take your financial marketing solutions to the next level, there's no better tool to have in your brand management arsenal.
The Flight Simulator: BlueSky ETO Live Demo
Financial services marketing has traditionally been a somewhat bland business offering—at least as far as consumers are concerned. But that's exactly why modern-day marketing tactics have had to adapt—to meet people's ever-changing needs. Fintech answers that call in...
read more
Summary
Article Name
Financial Marketing Solutions: 7 Marketing Tips From Experts
Description
Looking to take your financial marketing to the next level? Use these tips from experts in the field to maximize your reach and your marketing ROI.
Author
Publisher Name
Publisher Logo