Digital Asset Management Software
Digital Asset Management software helps marketing departments organize assets and make them available to users in the field. Our core offering is a cloud-based, web-accessible solution with customizable levels of storage. Of course our Digital Asset Management (DAM) solution integrates with our
Brand Marketing Center
and our
Automated Marketing Production
offerings to deliver maximum control and flexibility in marketing production for your distributed brand.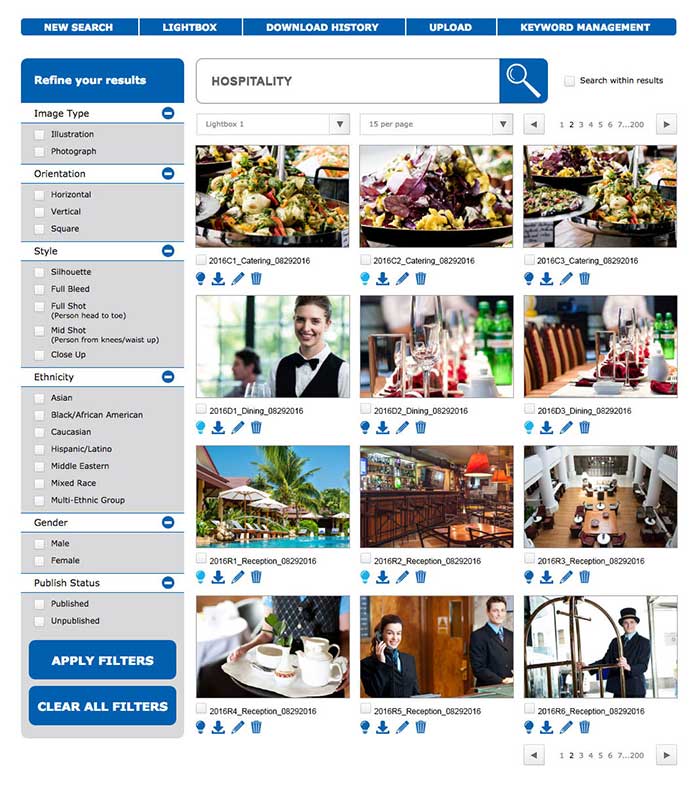 Stop struggling to keep your users up to date with current versions of marketing assets. Digital Asset Management systems from BlueSky ETO organize all your digital assets in one easy-to-use and search location.
Digital Asset Management FAQs
Each solution we launch is Engineered to Order. Because of the varying levels of customization, the cost of implementing a DAM system varies, typically between $10,000 and $50,000. Please contact us for a customized quote based on your needs.
Digital Asset Management Core Features
Advanced Search
Advanced searching, filtering and retrieval capabilities. Save time – no more searching for and emailing image files!
Powerful Administration
Part of the Engineered to Order experience is modifying the administration tools to suit your classification and metadata structure, resulting in easy-to-use administration features and powerful search/filter options for end-users.
Organization and Sharing
We make it easy for each user to organize multiple collections of assets, and then securely share these collections, or individual assets, with partners.
Multiple File Formats
Ensure your users can get the file formats they need. Content Delivery Network available for fast download times worldwide.
There are many challenges faced by brand marketers seeking to maintain brand consistency in far-flung locations, while allowing for localized variation in content and presentation.
Agencies are challenged by the brands they serve to solve communication, consistency and resource issues between central marketing and the remote field user-base.

Free Brand Marketing Consultation
Contact us for a free, personalized demonstration of BlueSky ETO brand management solutions based on your organization's unique needs.

Try Live Demo
Experience the easy-to-use power of BlueSky ETO's brand management software with a test flight in our free Live Demo – the Flight Simulator.