What is a brand? In the words of Seth Godin, "A brand is the set of expectations, memories, stories and relationships that, taken together, account for a consumer's decision to choose one product or service over another." A business's success is built on decisions, whether they happen in boardrooms or check out aisles. A strong brand image helps guide those decisions. How can you create a brand image and control your brand identity? Read on to find out!
The Importance of Brand Image
As a brand marketer, chances are you don't have time to be bored. There are always new clients to meet, new contracts to negotiate, projects to manage and of course, fires to put out. It's no wonder that sharpening your brand image rarely makes it to the top of the to do list.
Putting your brand image on the back burner is a big mistake, but to understand why, you first need to know why brand identity is so important. Here are some of the most compelling reasons why your brand image deserves more attention:
Brand Image Creates a First Impression
Imagine your brand as a person walking into a crowded room. Would it steal the spotlight or quickly retreat to the sidelines with the other wallflowers? First impressions matter, and a strong and consistent brand image grabs attention and makes consumers want to learn more.
A Strong Brand Image Communicates Values in an Instant
When consumers see the Apple logo, they immediately think of technology and innovation. A simple glimpse of the golden arches is enough to make bellies rumble for some affordable fast food. Marketing complex values like family togetherness or trusted financial advice isn't simple, but brands like Disney and Wells Fargo accomplish this through some of the strongest brand identities on the market. Instantaneous recognition leads to quick decisions and over time, major profits.
Brand Identities Build Trust
A reliable brand image is like the familiar face of a friend. It's recognized and trusted instantly. Brands who are able to establish this level of recognition form an emotional bridge between product and consumer. Human connections and strong relationships earn lifelong loyalty.
A Solid Brand Identity Stands Out From the Crowd
To make an impact in a market dominated by giants, startups and small businesses need a strong brand image. Even established brands fuel their success with a consistent, trusted brand identity. Your specific brand image is what sets you apart from all of the other options consumers have. Without one, you'll blend into the background and be forgotten.
New Products Get a "Leg Up" From Brand Image
Brands who've already established a high level of recognition don't need to start from scratch when marketing a new product or service. Instead, they can leverage the identity they've built to make a bigger impact in less time.
Solid Brand Identities Support Omni Channel Marketing
90% of customers expect consistent interactions across channels. Achieving consistency is impossible without a strong brand image that's established and communicated on all platforms. With a solid identity, brands can create a seamless experience that strengthens their brand image at every touch point.
Brand image is like your company's reputation—everything rests on it. Understanding the importance of brand identity is one thing. Being able to create and control your brand image is another.
How to Create a Strong Brand Image
Creating a Brand Image Begins With Research
Every major business project should begin with research. Building a strong brand image is no different. You'll want an identity that attracts your ideal customer, keeps them engaged, and helps you rise above the competition. Here are the three areas to focus on first: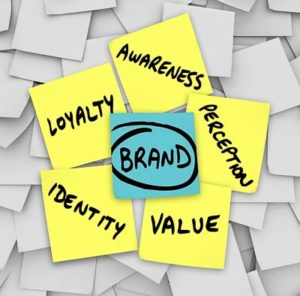 Target Audience. Have you built detailed buyer personas for your brand? If not, now is the time to start! Create these personas by interviewing current and past customers, talking to your sales team, and brainstorming about the ideal buyer for each of your products. Once you have your personas, ask yourself: "What core values do my personas share? What inspires them to convert and to remain loyal to a brand?"
Competitors. Which concepts and values do consumers associate with your competitors? How do your competitors convey those ideas through messaging and design? Dive into your competitors' websites, print ads, TV spots and more to learn the answers. You can also use tools like SEMrush to learn which search terms lead web surfers to competing sites.
Your Current Identity. How do consumers view your brand right now? How has your brand evolved? Talk to customers and clients, but don't forget to poll employees. Tenured employees are a major resource that often goes untapped. Ask them how they think your brand's perception has changed and what they would do to improve it.
Define Your Brand Values
As humans, our actions are guided by our values. Brands should be too. Many brands make the mistake of conflating value with values. But your brand values aren't about what you're delivering so much as how you're delivering it.
Nike may be in the business of selling t-shirts and tennis shoes, but their brand values deliver bigger ideas: that anyone can aspire to greatness and that dedication can turn you into a legend. Nike lists their mission statement as follows: "To bring inspiration and innovation to every athlete in the world." Inspiration, innovation, accessibility—these are Nike's brand values. What are yours?
Develop and Design
Don't think design hurts or helps control your brand image? Think again. Here are just a few statistics that prove how crucial design is for brand and business success:
Design-driven companies have outperformed the S&P Index

by 219%

over 10 years.

Given 15 minutes to consume content,

two-thirds

of people would rather read something beautifully designed than something plain.

90%

of all human communication is non-verbal.

38%

of people will stop engaging with a website if the content/layout is unattractive.

Colors increased web recognition by

80%

. Sites with dark color schemes increased growth by 2% whereas sites with lighter color schemes experienced 1.3% growth.

Color can improve brand recognition by up to

80%

.
Shape, form, space, color, texture—design is made up of many elements (and these are just a few). The world's most memorable brands have dedicated and experienced design teams. If your design team isn't established, or is still growing, consider contracting with industry experts to direct the design of your brand. Then get detailed feedback from your employees, loyal customers, and target markets to make sure you've sculpted a design that reflects your brand values.  
Creating a Brand Image and Controlling Brand Identity
You've done your research. You've defined your brand values. Your team has designed everything from your brand logo to your Facebook Cover photo. You have built it. They will come. But how will you keep them coming back? The trick to lasting brand success is to continually guide and control your brand image. Here's how:
Detailed Brand Guidelines
Are your social media team, franchisees, sales reps and designers on the same page when it comes to your brand image? The first step in maintaining brand consistency is creating a clear and detailed list of guidelines. These guidelines should be available 24/7 to any stakeholder who designs or delivers branded collateral. Store and share your brand guidelines through your dedicated Brand Marketing Center. That way, when someone has a question about branding, they can find the answer instantly.
Digital Asset Management
Are outdated versions of your brand logo or marketing slogans still in circulation? Ensure everyone's using current versions of branded material with the help of Digital Asset Management. This service allows employees and partners to access current collateral as soon as it's available. Through integration with their Brand Marketing Center, they can even use local vendors to print their updated pieces.
Marketing Templates
If you have local partners like franchisees creating collateral, marketing templates can help! These tools allow users to modify certain aspects of a print ad, social media graphic, or other piece of marketing. Branded elements can remain fixed while other details can be optimized for local markets. This way, businesses maintain brand compliance while creating highly-relevant material on the local level.
Social Media
It's nearly impossible to control your brand image without strong social media management. Don't give the keys to your account to just anyone. Trust them to a dedicated social media team. Ensure social media policies are outlined and shared along brand guidelines in your Brand Marketing Center.
Monitoring Tools
Use tools like Hubspot and Hootsuite to monitor social conversations around your brand. This way, if your brand is being misrepresented or misunderstood online, you'll be the first to know. You can also set up Google Alerts for branded terms. These alerts will monitor blogs, news articles, web pages and other mentions of your brand and send the links directly to your inbox. You can't control the conversation if you don't know it's happening!
Open Door Policy
The most important thing you can do to strengthen your brand image is to create open door policies. Stakeholders may be confused about branding, see major branding mistakes happening, or have valuable advice on how to improve your brand identity. They need to be able to share their thoughts without fear of reprisal. Consider creating opportunities for employees to anonymously give feedback. Google Forms is a great way to collect insights while protecting anonymity.
Take Charge of Your Brand Image
A consumer will make the decision to buy your product or service based largely on their perception of your brand. By creating a favorable first impression and building trust over time, your brand can not only develop the kind of identity you can be proud of, but also one that stands out as the best choice among your competition.
This guide should give you the foundation for building and maintaining a solid brand image, but remember to shape your strategy to fit your brand—not the other way around. To learn more about building and controlling your brand identity, schedule a brand consultation today. Our team will help analyze your needs, goals, and market to build the tools that fit them best.
Summary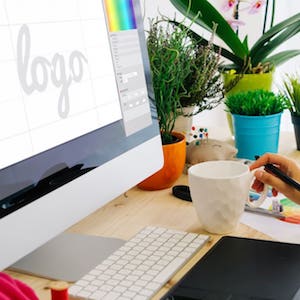 Article Name
How to Create and Control Your Brand Image
Description
A business's success is built on decisions. A strong brand image helps guide those decisions. How can you create and control your brand image?
Author
Publisher Name
Publisher Logo