Jeff Bezos once said, "A brand for a company is like a reputation for a person. You earn reputation by trying to do hard things well." How good is your company at delivering solutions to difficult challenges? How many people know about it? In many ways, branding is about bridging the gap between your value and your reputation. If you're ready to build that bridge, it's time to invest in a brand portal.
What Is a Brand Portal?
If your business or organization isn't already using a dedicated brand portal, you may be unclear on exactly what the definition of a brand portal is. The simplest definition of a brand portal is a digital resource center. A brand portal, or a web based marketing portal, is a digital "home" where all of your branded content can live. Some examples of branded content include:
Style guides

Graphics and logos
Videos
Product images and information
Marketing collateral like brochures and fliers
In-store display items
Digital and print advertisements
Slide decks, PowerPoints, and pdfs
Training and operations manuals
While a basic brand portal may simply store these files, a comprehensive system like those created by BlueSky ETO also helps users leverage these assets. These systems allow users to easily customize branded materials while maintaining brand identity and consistency. Distributed brands can customize and deliver locally-targeted campaigns without damaging the international or global brand image. A system of integrated features makes it possible:
Brand Portal Features
Web Content Management
Create and manage a fresh and engaging website—with a brand portal, it's easier than ever. Build your brand identity with website content, landing pages, marketing collateral and more, all through one easy-to-use portal. Easily edit and apply site-side branding in a snap. Use web content management tools to deliver a consistent experience across all sites and platforms. Distributed brands can create global or local content without threatening internal brand guidelines.
Web Based Marketing Portal and Ad Templates
Ensure internal brand guidelines are followed completely with marketing and ad templates. Brand portal managers decide which marketing template elements remain fixed and which can be edited. This empowers marketers, designers, franchise owners and more to create collateral that perfectly fits their needs (without threatening brand compliance in the process).
Digital Asset Organization and Storage
Digital asset libraries are a central feature of every BlueSky ETO brand portal. With a digital asset library, you can store and share brand assets on a secure digital platform. Eliminate the need for endless email strings and online scavenger hunts between designers, marketers, and brand representatives. Text and metadata search, along with detailed search filters and user permission levels, make it simple to find the exact file you need exactly when you need it. Easily ensure your entire network has access to the latest versions of logos, ads, and even internal brand guidelines.
E-Commerce Capabilities
Branded content doesn't end with digital files. From name tags to business cards, window displays and brochures, plenty of physical materials help you tell your brand story. Integrated e-commerce features simplify the ordering process and make creating and delivering these items easier than ever. BluSky ETO marketing portal software include e-commerce capabilities like split payments, co-op balance payments, and "hold for later" options. End users can easily pay for transactions while brand portal managers enjoy consolidated order, financial-reporting, and subscription features.
Analytics and Reporting
Strengthen your sales and marketing strategies with your brand portal's robust reporting software. BlueSky ETO's brand portals include detailed reporting on a variety of user and consumer actions. Track and analyze sales, get details on abandoned carts, analyze coupon and promo code usage, and see which products are below the reorder threshold. Gauge user activity and see which digital assets and branded items are most popular. These are just a few of the reporting capabilities you'll find in a BlueSky ETO brand portal. Learn more about our reporting software here.
Marketing Portal Software: Scalable Solutions for Distributed Brands
BlueSky ETO's brand portals are engineered to order with the brand's unique goals and challenges in mind. With scalable features and customizable tools, your brand portal can grow with you. Managers of distributed brands can integrate the system with local vendors for increased efficiency. Custom permission levels and filters allow for users at different levels and locations to access the assets and functions they need without added confusion and frustration. These features make it possible to create and deliver large-scale marketing campaigns across a global network.
Learn more: How to Build Your Brand with Marketing Operations Management Software
Does My Brand Need a Brand Portal?
Now that you're familiar with the central features of a BlueSky ETO brand portal, you have a clearer picture of what a brand portal is and does. But how can you be sure you'll benefit from adopting a new brand portal system? Try asking yourself these questions:
Is maintaining brand consistency important to by business?
Could profits be improved by increased brand recognition?
Would my design team save time by using marketing templates?
Would simplifying the marketing collateral approval process save management time?
Are company files currently stored in multiple, non-secure locations?
Does my company produce more printed items than are used?
Does creating and managing web pages take more time than it should?
Do franchise owners or other local stakeholders threaten brand consistency when creating their own marketing?
Does my digital team struggle to create a consistent brand experience across all channels?
Would decreasing campaign delivery time save my brand time and money?
If you answered "yes" to five or more of these questions, your brand could definitely benefit from a comprehensive brand marketing portal.
Accomplish Your Brand's Unique Goals With a BlueSky ETO Brand Portal
Still on the fence about investing in an engineered-to-order brand portal? A dedicated brand portal offers many benefits. One of the most important is a strong and consistent brand identity. Creating and maintaining your brand identity is more important than ever before. For proof, just take a look at these branding statistics:
The Importance of Brand Identity: Key Statistics
Consistent brands are three to four times more likely to experience brand visibility.

82% of investors say brand strength and name recognition are increasingly important factors guiding their investment decisions.

Presenting a brand consistently can increase revenue by an average of 23%.

 90% of consumers expect their experience with a brand to be consistent across all devices and platforms.

48% of consumers say they're more likely to become loyal during their first experience with a brand.

89% of B2B marketers list brand awareness as their most important goal, even ahead of sales and lead generation.

B2B companies whose brands are perceived as strong generate a higher EBIT margin than those with a weak brand identity.

77% of B2B marketers say branding is critical to growth.

A signature color can increase brand recognition by up to 80%.

40% of marketers don't believe their brand image is well-aligned with the strategic direction of their organization.

76% of retail consumers in the US interact with brands or products before arriving at a brick and mortar location.

65% of marketing executives say a variety of branded collateral is key to communicating brand identity, including photos, videos, illustrations, and infographics.

Brands which are consistently presented are up to four times more likely to enjoy excellent brand recognition and visibility than those with an inconsistent brand presentation.

95% of organizations have internal brand guidelines, but only a fourth of those have formal guidelines that are consistently enforced.

Over 60% of organizations report that materials are always, often or sometimes created that don't conform to brand guidelines.

87% of customers believe brands need to put more effort into providing a consistent brand experience.
If you're ready to strengthen your own brand identity, get a behind-the-scenes look at BlueSky ETO's capabilities with a free software demo. Or, if you're ready to discuss your biggest branding challenges and discover how a brand portal can help, schedule a free consultation today.
Explore Brand Portal Features on Your Own
Financial services marketing has traditionally been a somewhat bland business offering—at least as far as consumers are concerned. But that's exactly why modern-day marketing tactics have had to adapt—to meet people's ever-changing needs. Fintech answers that call in...
read more
Summary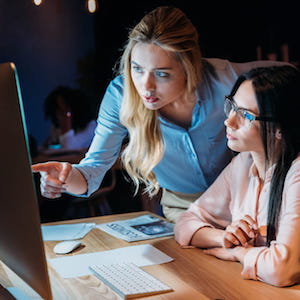 Article Name
Boost Brand Identity and Brand Recognition With a Brand Portal
Description
The benefits of a good brand portal are undeniable. Learn what a brand portal is and how it can benefit your brand.
Author
Publisher Name
Publisher Logo