Jeff Bezos once said, "Your brand is what other people say about you when you're not in the room." What does your brand conversation sound like? If you're saying one thing and consumers are hearing something else, it's time to improve your franchise brand consistency.
What Does Brand Consistency Mean?
Before you can improve your branding strategy you first need to understand the definition of brand consistency:
Brand consistency is achieved when a brand clearly communicates its values, mission, and services across all platforms. By doing this, they create a unified brand image. A consistent brand is essentially telling consumers the same story, whether that consumer is exposed to the brand on social media, via direct mail companies, in person, or through a customer service call.
Why is brand consistency important for financial brands? Here are just some of the results that come from creating a truly consistent financial brand:
Building Brand Trust.

Financial brands face an uphill battle when it comes to building trust. Markedly, only

8% of consumers

say they trust financial institutions. Consistent brands don't come across as disingenuous panderers. Instead, they tell a solid and consistent story that consumers can trust.

Increased Customer Loyalty. Many consumers who begin a relationship with a bank, credit union, or other financial brand maintain that relationship for a lifetime. This lifelong relationship is built on trust, and trust comes from excellent service and consistency.
Humanized Brands.

With consistent branding, financial companies can build a personality around their brand. Instead of a faceless corporate entity, consumers see a group of helpful experts they know and trust.
It's easy to imagine how these results support the shared goals of most financial brands. With a loyal, trusting base of supporters, it's much easier to attract additional members/investors, to implement new services, and to grow your brand and profits. But before you can achieve any of these goals, you first need to define your brand image.
Brand Consistency Begins With Defining Your Brand Image
If you have a brand, you have a brand image. This term simply refers to the way consumers view, or feel about,  your brand. The idealized image financial brand managers dream of fostering and the actual public perception of their brand will never align 100%. After all, each consumer has their own preferences and opinions. However, there are some steps every financial brand manager can take to help create a more unified brand image:
Identify Your Marketing Personas
Marketing personas are fictional character based on your ideal customers. Create a handful of these personas based on your user data and the insights of your senior members. Don't forget to create negative personas too—those that you actively don't want to attract through your marketing efforts. Knowing what your ideal audience looks like and what motivates them will help you build and enforce a brand image that attracts and converts.
Map Your Marketing Kingdom
Where has your brand historically invested the most marketing dollars in the past? Which mediums and platforms do you hope to leverage more in the future? Different outlets and marketing formats come with different marketing needs. Knowing how you plan to communicate your brand image will help you identify its most central characteristics.
Compare Your Competitors
How do the major competitors of your financial brand market themselves? How are they similar, and what do they do to stand out from the crowd? Pay close attention to design—choosing a different font or logo color may make you more memorable if all of your competitors look the same from a visual branding standpoint.
Distill Your Brand Values
How would you define your financial brand in a paragraph? What about in a sentence or even a single word? Many brands make the mistake of trying to be everything to everyone. Distill your message to be sure your most central values and characteristics are the primary focus in all your branding.
Design Your Visual Image
A brand's image can be formed through press statements, boardroom decisions, and customer interactions. However, a large part of what forms a financial brand's identity is literally its visual image. Ask yourself, how clearly defined is my brand's style guide?
Conduct a Financial Brand Audit
How consistent is your financial brand? The best way to find out is to conduct a "brand audit." A brand audit requires a deep dive into your marketing collateral and branding. Take stock of your current and recent collateral including:
Direct mail (don't forget to look beyond marketing materials to customer statements and other branded mail!)

Email campaigns and text alerts

Mobile apps and desktop tools

All branded webpages and branded social media pages

Brochures and in-branch marketing displays

Customer service experiences including call center scripts
Complete these steps and you'll learn who your target members or consumers are. You'll also learn how you want them to perceive your brand, and how your current marketing efforts are working towards and against that goal. Armed with this knowledge, you'll be ready to take the next step: strengthening brand consistency.
How to Enforce Financial Brand Consistency
Every individual who acts on behalf of your brand has the potential to affect your brand image. Make sure stakeholders of all levels are equipped to strengthen brand consistency by following these marketing tips:
Make Brand Guidelines Readily Available
Your financial brand shouldn't rely solely on printed manuals. Instead, thorough and clear brand guidelines should be available at all times, even out-of-office and after business hours. Make sure your designers and marketers are always consulting the most updated version of your style guide and brand guidelines by uploading them to your Brand Marketing Center.
Rely on a Digital Asset Management System
Store, organize, and share company logos and other branded images with a secure Digital Asset Management system. Not only will this ensure employees utilize brand-approved images, it'll also save time locating files for marketing and design projects.
Use Customized Marketing Templates
How many designers, marketers, managers, and local partners create marketing collateral for your financial brand? Marketing templates allow users to modify some aspects of a print ad, social media graphic, or other piece of marketing while leaving other branded elements locked. Since these tools take the guesswork out of creating visual collateral, they make sure brand guidelines aren't threatened by each new piece of marketing content.
Remember: There's no Finish Line for Brand Consistency
To echo the words of many break room motivational posters: it's about the journey, not the destination. Each new brochure you design or app feature you add creates a new opportunity to strengthen or damage your brand. That's why enforcing brand consistency should be an ongoing priority.
In addition to yearly brand audits, conduct surprise on-location visits. Use mystery "shoppers" to provide valuable feedback, not just about your services and customer experience, but on how they view your marketing materials and brand. Does your company give customer service callers the ability to complete a survey after each call? Add a question or two about your brand image to learn more about how customers view you.
Enforce and reinforce your brand guidelines and best practices by making them a central part of orientation and training. Consider offering refresher courses and workshops for tenured employees and even senior members. Remember: you can't achieve brand consistency without clear, ongoing communication.
Have more questions about how to best market your financial brand? Read some of the following blog posts to learn more about financial marketing solutions or contact us for a free one-on-one brand consultation.
Financial services marketing has traditionally been a somewhat bland business offering—at least as far as consumers are concerned. But that's exactly why modern-day marketing tactics have had to adapt—to meet people's ever-changing needs. Fintech answers that call in...
read more
Summary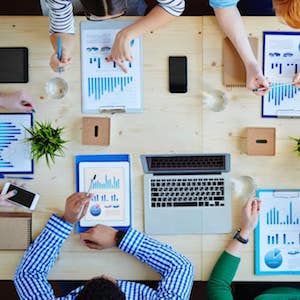 Article Name
Brand Consistency for Financial Brand Managers: Tips and Strategies
Description
What does your brand conversation sound like? Learn how to create and enforce financial brand consistency in your marketing efforts.
Author
Publisher Name
Publisher Logo