When it comes to sharing your brand's digital marketing assets, how efficient are you? Are you still emailing files to distributed marketers and personnel that need them—or do you have the best digital asset management system in place to expertly organize and deliver your marketing collateral? The latter scenario helps smart marketers regulate their marketing assets in a way that makes them available to authorized users "in the field" anytime they need them.
What's a Digital Asset Management System?
Digital asset management (aka DAM) is predicted to be an $8 billion market by 2024. For every $1 you invest, you can expect a return between $8 and $14. Plus, companies that use DAM can save a whopping $120,000+ on workflow efficiency, not to mention the savings they'll accumulate on asset re-creation. So its value and future aren't questioned. But before we examine its parts, let's define exactly what it is.
A DAM system stores and organizes digital assets in a central, cloud-based location, making them readily available to any and all authorized users. For example, as a marketing executive, you likely have a wealth of marketing collateral to share with your associates. This could be anything from images and videos to email signatures, brand guidelines, and more. When you want to make these assets available to all your users, a digital asset management system makes it possible. Not only is it the perfect solution to store and organize all your electronic files, but you can also share them in a wide variety of ways. Each authorized user has only the access you allow, so everyone gets just what they need as soon as you upload the files into the system.
Here are seven traits of the best digital asset management system. These features will help your business save time and money.
1. Easy to Find Digital Files
Employees that don't have access to a DAM system spend about 5x longer looking for digital files. Based on that information, you don't need to do any figuring to determine that this is a tremendous waste of time. The best digital asset management system saves you from searching for brand assets in file folders on your computer and within the platform itself. With an advanced search function, you can easily locate the digital files you're looking for based on a wide variety of criteria.
For example, you could simply enter a keyword or keyword phrase, like "2019 logo." You could limit the search process to specific folders or categories, like "logos" or "holiday campaigns." You can also cross-reference assets linked to multiple folders or categories. Additionally, the entire process should be customizable. Your digital asset management program should never be a cookie-cutter software solution. Quite the contrary. It should be engineered to order to your specific usage. You need the freedom to filter, organize, and access as you see fit.
What Would DoubleTree Do?
Here's an example. Let's say you're the marketing manager for a franchise of hotels, like DoubleTree by Hilton. With hundreds (or maybe even thousands) of assets to choose from, there has to be a strong organizational structure in place to save valuable time—and money. When looking for an asset, you could run a search for the term "hospitality," but it could yield hundreds of pages of results. Think about that. You could become very frustrated rummaging through that many pages for just the right image. It's a tremendous waste of time.
It would be a lot easier if you could filter the search term for more specific results. The best digital asset management system allows you to do this. So rather than merely looking for "hospitality" images, you could search by image type, orientation, or style. You could even search by the ethnicity or gender of the people in the images. What categories you create and the keywords and phrases you give to them are up to you. The important thing to remember is that you control what the search criteria are. That's why it's "advanced."
2. Customizable UX
While you're effectively marketing your brand to the public, don't forget to do so to your authorized users as well. A custom-branded home page within your asset management system will speak to that need with dynamic skins and custom images. Plus you can personalize each user's experience, so when they log in, they're greeted as the individual they are. Also, let's say you have multiple businesses under one brand umbrella. You can make sure each user accesses the correct assets with permission controls that reveal only what they need to see.
3. Awesome Admin Functions
When you're shopping for the best digital asset management system, you undoubtedly want powerful administrative features so you can customize the experience for your end-users. From the way you market your brand to your own associates, to the ways you keep a project moving in the right direction, your administrative functions are key elements in the DAM system. Let's look at a variety of categories that you can customize to suit your brand's unique needs.
Reporting Features
You can learn a lot about your assets (and users) by examing the statistics of your digital asset management system. For instance, you can see how popular an asset is by how many downloads it has, who's logging into the system the most, etc.
Media Delivery
There may be times when you need to integrate your files with a streaming media server. You can improve your download speeds by coordinating with a Content Delivery Network (CDN), like Akamai.
Upload and Data Ingestion
Batch uploading sounds like a time-saver, doesn't it? The best DAM system provides this possibility. Plus you can select certain folders for data ingestion, which means the files are available instantly, as soon as they're uploaded.
Security Features
With the best digital asset management system, security is always a top priority. Your information will be protected 24/7 with encrypted passwords and SSL protocols. Also, you can provide each of your users with certain roles, which gives them only the access they need. Furthermore, you can set certain assets to expire at specific times, and more.
4. Organized and Shareable
If you were able to improve the communication with your team, streamline your project management, and decrease your delivery time, how much would that improve your marketing efforts? A lot, right? Of course it would. In fact, it probably reads like a dream scenario for your brand. Well, there's good news. You can do all three with the best digital asset management system. The way you organize your files and share them can make a big difference. Let's look at a couple of the most popular organization/sharing features in a DAM system.
Lightbox
A lightbox allows users to assemble the images they want in the manner they desire. Maybe they need to share a particular idea or strategy regarding a specific group of images and/or videos, with notes attached. A lightbox will allow them to accomplish this. They can also share lightboxes with unregistered contacts who can download specific assets.
Asset Request Options
Ideally, when you upload files to your digital asset management system, they're good to go. They're pre-approved for users to access anytime. That's what makes the software so desirable. It saves time and the hassle of fulfilling individual requests for files. There will be occasions, however, when you need to place restrictions or "only if" conditions on certain files. But time savings is still a priority. Authorized users can add assets to a shopping cart and request them all at once rather than one at a time. Plus you can create a customized approval workflow to manage special assets, like those with licensing agreements.
Related: Brand Management Tips That Will Motivate You Today
5. Willing Workflow
Do you need the workflow of projects to move in a specific direction? For instance, you may need a project to go through an approval process prior to usage. If a user selects from a specific group of images, you can still set permissions so that a designated person can give their final OK. Each project can have its own workflow. In some cases, that may mean the user can simply "grab and go" with an image. In other cases, there may be more steps involved. Not to worry. You can set it up any way you want.
6. Magical Metadata
Sometimes you'll need to make changes to your brand assets—one image at a time or as a group of images. You can record and track those changes and edit the metadata (data about data) so you know which version is which and when it was changed. Why is this important? Every year, an average of three digital assets are used incorrectly because the user couldn't find the file's metadata. The average cost per incident is a staggering $5,000. That adds up to a significant financial loss.
7. Makes Everyone Happy
The best digital asset management system allows for multiple file format storage. And by multiple that means practically every type of digital file there is. A JPG may work for one user, but another person may require a TIF—or a TIFF. You know the old saying "You can't make everyone happy?" Well, that's not entirely true. Digital asset management software makes it possible to please everyone. Whether it's an audio, video, or image file, you're good to go.
You can also upload, organize, and filter documents and fonts, spreadsheets and presentations, and a variety of other formats, like PDFs and SWF files, just to name a couple.
Let's look at a simple example like your brand's logo. Depending upon where your distributed marketers will be using your logo, they'll need the proper file format. If they're posting it to their website or social network, they'll likely need a JPG or EPS file. If they need it for a print project, they might require a TIF. Of course, you'll outline the logo's usage terms in your brand guidelines, which users can access as a PDF document. Then, when you make changes to that document, you can simply upload the revised file and it will replace the previous version automatically.
The important thing to remember is the best digital asset management system saves you from having to convert files everytime you get a request. That slows down your marketing efforts and increases the risk of hurting your brand image. When you give your authorized users what they need and make it available when they need it, everybody wins. You've got the control and they have the access. Those are two elements that make digital asset management software a lifesaving solution for any marketing department.
You Can Have the Best Digital Asset Management System
Now that you've reached the end of this article, you're probably wondering where you can get all these features—or if it's even possible? Is there really a "best digital asset management system" out there? Luckily, there is. We won't leave you hanging without a solution. BlueSky ETO makes brand management software with a digital asset management component that's engineered to order for your business. It features the search, administration, organization/sharing, and multiple file format allowance you need.
Before you jump into a decision, you may want to talk about it with someone in the know. That's why we can offer you a free brand consultation. To discuss your brand's digital asset management needs, contact a BlueSky ETO representative today.
Financial services marketing has traditionally been a somewhat bland business offering—at least as far as consumers are concerned. But that's exactly why modern-day marketing tactics have had to adapt—to meet people's ever-changing needs. Fintech answers that call in...
Summary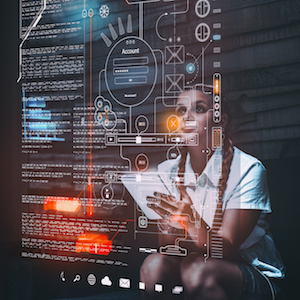 Article Name
7 Traits of the Best Digital Asset Management System
Description
Digital asset management (aka DAM) is predicted to be an $8 billion market by 2024. For every $1 you invest, you can expect a return between $8 and $14. Plus, companies that use DAM can save a whopping $120,000+ on workflow efficiency.
Author
Publisher Name
Publisher Logo